Training for profit
24th September 1971
Page 54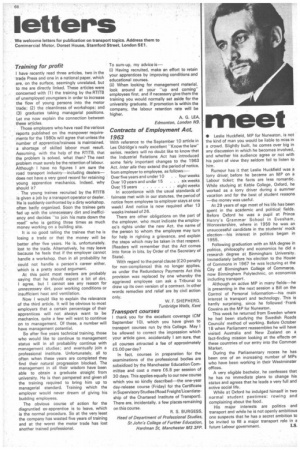 Page 54, 24th September 1971 —
Training for profit
Close
I have recently read three articles, two in the trade Press and one in a national paper, which are, on the surface, seemingly unrelated, but to me are directly linked. These articles were concerned with (1) the training by the RTITB of unemployed youngsters in order to increase the flow of young persons into the motor trade: (2) the cleanliness of workshops: and (3) graduates taking managerial positions. Let me now explain the connection between these articles.
Those employers who have read the various reports published on the manpower requirements for the 1980s will agree that unless the number of apprentice/trainees is maintained, a shortage of skilled labour must result. Assuming, with the help of the RTITB, that the problem is solved, what then? The next problem must surely be the retention of labour. Although I have no figures I am sure the road transport industry—including dealers— does not have a very good record for retaining young apprentice mechanics. Indeed, why should it?
The young trainee recruited by the RTITB is given a job by a transport operator or dealer. He is suddenly confronted by a dirty workshop, often badly organized. Soon the trainee gets fed up with the unnecessary dirt and inefficiency and decides "to join his mate down the road" who is getting three times as much money working on a building site.
It is no good telling the trainee that he is losing a trade or that the money will be better after five years. He is, unfortunately, lost to the trade. Alternatively, he may leave because he feels that if the employer cannot handle a workshop, then in all probability he could not handle a person's career either, which is a pretty sound argument.
At this point most readers are probably saying that he should expect a bit of dirt. I agree, but I cannot see any reason for unnecessary dirt, poor working conditions or insufficient heat and ventilation.
Now I would like to explain the relevance of the third article. It will be obvious to most employers that a certain percentage of their apprentices will not always want to be mechanics, quite a few will want to continue on to management. Of these, a number will have management potential.
So after five years technical training, those who would like to continue to management status will in all probability continue with management studies; and eventually join a professional institute. Unfortunately, all to often when these years are completed they find their natural progression blocked. The management in all their wisdom have been able to obtain a graduate straight from university. He is then pampered and given all the training required to bring him up to managerial standard. Training which the employer would never dream of giving his budding employees.
The obvious course of action for the disgruntled ex-apprentice is to leave, which is the normal procedure. So at the very least the company has wasted five years of training and at the worst the motor trade has lost another trained professional. To sum-up, my advice is (i) Having recruited, make an effort to retain your apprentices by improving conditions and educational courses.
(ii) When looking for management material, look around at your "up and coming" employees first, and if necessary give them the training you would normally set aside for the university graduate. If promotion is within the company, the labour retention rate will be higher. A. G. LEA, Edmonton, London N9.