road and workshop
24th September 1971
Page 52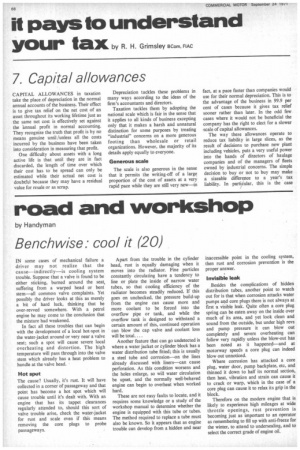 Page 52, 24th September 1971 —
road and workshop
Close
by Handyman
Benchwise: cool it (20)
IN some cases of mechanical failure a driver may not realize that the cause—indirectly—is cooling system trouble. Suppose that a valve is found to be either sticking, burned around the seat, suffering from a warped head or bent stem—all common valve complaints. Yet possibly the driver looks at this as merely a bit of hard luck, thinking that he over-revved somewhere. With a petrol engine he may come to the conclusion that the mixture had weakened.
In fact all these troubles that can begin with the development of a local hot-spot in the water-jacket around or very near a valve seat; such a spot will cause severe local overheating and distortion. The high temperature will pass through into the valve stem which already has a heat problem to handle at the valve head.
Hot spot The cause? Usually, it's rust. It will have collected in a corner of passageway and that point has become a hot spot which will cause trouble until it's dealt with. With an engine that has its tappet clearances regularly attended to, should this sort of valve trouble arise, check the water-jacket for rust and scale even if this means removing the core plugs to probe pass ageways. Apart from the trouble in the cylinder head, rust is equally damaging when it moves into the radiator. Fine particles constantly circulating have a tendency to line or plate the inside of narrow water tubes, so that cooling efficiency of the radiator becomes steadily reduced. If this goes on unchecked, the pressure build-up from the engine can cause more and more coolant to be forced into the overflow pipe or tank, and while the overflow tank is designed to withstand a certain amount of this, continued operation can blow the cap valve and coolant loss will be total....
Another feature that can go undetected is where a water jacket or cylinder block has a water distribution tube fitted; this is usually a steel tube and corrosion—on the lines already discussed with liners—can cause perforation. As this condition worsens and the holes enlarge, so will water circulation be upset, and the normally well-behaved engine can begin to overheat when worked hard.
These are not easy faults to locate, and it requires some knowledge or a study of the workshop manual to determine whether the engine is equipped with this tube or tubes. The method required to replace a tube must also be known. So it appears that as engine trouble can develop from a hidden and near inaccessible point in the cooling system, then rust and corrosion prevention is the proper answer.
Invisible leak Besides the complications of hidden distribution tubes, another point to watch out for is that when corrosion attacks water pumps and core plugs there is not always at first a visible leak. Quite often a core plug spring can be eaten away on the inside over much of its area, and yet look clean and sound from the outside, but under high revs and pump pressure it can blow out completely and severe overheating can follow very rapidly unless the blow-out has been noted as it happened—and at motorway speeds a core plug can indeed blow out unnoticed.
Where corrosion has attacked a core plug, water door, pump backplate, etc, and thinned it down to half its normal section, then heat, vibration and strain can cause it to crack or warp, which in the case of a core plug can cause it to relax its grip in the block.
Therefore on the modern engine that is likely to experience high mileages at wide throttle openings, rust prevention is becoming just as important to an operator as remembering to fill up with anti-freeze for the winter, to attend to undersealing, and to select the correct grade of engine oil.