INTERFREIGHT 71 PREVIEW,...,...
24th September 1971
Page 38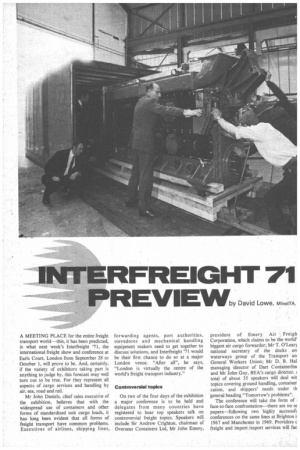 Page 39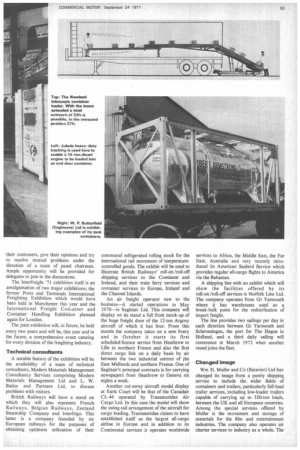 Page 40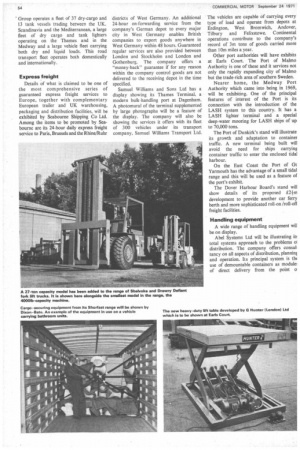 Page 41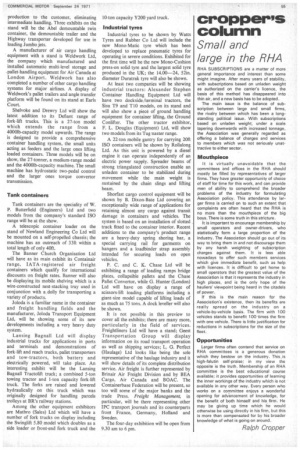 Page 38, 24th September 1971 —
INTERFREIGHT 71 PREVIEW,...,...
Close
A MEETING PLACE for the entire freight transport world—this, it has been predicted, is what next week's Interfreight '71, the international freight show and conference at Earls Court, London from September 28 to October I, will prove to be. And, certainly, if the variety of exhibitors taking part is anything to judge by, this forecast may well turn out to be true. For they represent all aspects of cargo services and handling by air, sea, road and rail.
Mr John Daniels, chief sales executive of the exhibition, believes that with the widespread use of containers and other forms of standardized unit cargo loads, it has long been evident that all forms of freight transport have common problems. Executives of airlines, shipping lines, forwarding agents, port authorities, stevedores and mechanical handling equipment makers need to get together to discuss solutions, and Interfreight '71 would be their first chance to do so at a major London venue. "After all", he says, "London is virtually the centre of the world's freight transport industry."
Controversial topics
On two of the four days of the exhibition a major conference is to be held and delegates from many countries have registered to hear top speakers talk on controversial freight topics. Speakers will include Sir Andrew Crighton, chairman of Overseas Containers Ltd, Mr John Emery, president of Emery Air Freigh Corporation, which claims to be the world' biggest air cargo forwarder; Mr T. O'Lear) national secretary of the docks an waterways group of the Transport an General Workers Union; Mr D. B. Hal managing director of Dart Containerlim and Mr John Guy, BEA's cargo director. total of about 35 speakers will deal wit topics covering ground handling, container zation, and shippers' needs under th 'general heading "Tomorrow's problems".
The conference will take the form of face-to-face confrontation—there are no se papers—following two highly successfu conferences on the same lines at Brighton ii 1967 and Manchester in 1969. Providers c freight and import /export services will fac
their customers, give their opinions and try to resolve mutual problems under the direction of a team of panel chairmen. Ample opportunity will be provided for delegates to join in the discussions.
The Interfreight '71 exhibition itself is an amalgamation of two major exhibitions; the former Ports and Terminals International Freighting Exhibition which would have been held in Manchester this year and the International Freight Comainer and Container Handling Exhibition planned again for London.
The joint exhibition will, in future, be held every two years and will be, this year and in the future, a comprehensive event catering for every division of the freighting industry.
Technical consultants
A notable feature of the exhibition will be the availability of a team of technical consultants, Modern Materials Management Consultancy Services comprising Modern Materials Management Ltd and L. W. Bailey and Partners Ltd, to discuss problems with visitors.
British Railways will have a stand on which they will also represent French Railways, Belgian Railways, Zeeland Steamship Company and Interfrigo. This latter is a company founded by six European railways for the purposes of obtaining optimum utilization of their
communal. refrigerated rolling stock for the international rail movement of temperaturecontrolled goods. The exhibit will be used to illustrate British Railways' roll-on/roll-off shipping services to the Continent and Ireland, and their train ferry services and container services to Europe, Ireland and the Channel Islands.
An air freight operator new to the business—it started operations in May 1970—is Sagittair Ltd. This company will display on its stand a full front mock-up of the huge freight door of the 12-ton Argosy aircraft of which it has four. From this month the company takes on a new livery and in October it starts its first scheduled-licence service from Heathrow to Lille in northern France and also the first direct cargo link on a daily basis by air between the two industrial centres of the East Midlands and northern France. One of Sagittair's principal contracts is for carrying newspapers from Heathrow to Geneva six nights a week.
Another cut-away aircraft model display at Earls Court will be that of the Canadair CL-44 operated by Transmeridan Air Cargo Ltd. In this case the model will show the swing-tail arrangement of the aircraft for cargo loading. Transmeridan claims to have established itself as the largest all-cargo airline in Europe and in addition to its Continental services it operates worldwide services to Africa, the Middle East, the Far East, Australia and very recently introduced its American Seabird Service which provides regular all-cargo flights to America via the Bahamas.
A shipping line with an exhibit which will show the facilities offered by its roll-on/roll-off services is Norfolk Line Ltd. The company operates from Gt Yarmouth where it has warehouses used as a break-bulk point for the redistribution of import freight.
The line provides two sailings per day in each direction between Gt Yarmouth and Scheveningen, the port for The Hague in Holland, and a third daily sailing will commence in March 1972 when another vessel joins the fleet.
Changed image
Wm H. Muller and Co (Batavier) Ltd has changed its image from a purely shipping service to include the wider fields of containers and trailers, particularly full-load trailer services, including low-loader trailers capable of carrying up to 320-ton loads, between the UK and all European countries. Among the special services offered by Muller is the movement and storage of materials for the film and entertainment industries. The company also operates air charter services to industry as a whole. The
' Group operates a fleet of 37 dry-cargo and 13 tank vessels trading between the UK. Scandinavia and the Mediterranean, a large fleet of dry cargo and tank lighters operating on the Thames and in the Medway and a large vehicle fleet carrying both dry and liquid loads. This road transport fleet operates both domestically and internationally.
Express freight Details of what is claimed to be one of the most comprehensive series of guaranteed express freight services to Europe, together with complementary European trailer and UK warehousing, packaging and distribution facilities, will be exhibited by Seabourne Shipping Co Ltd. Among the items to be promoted by Seabourne are its 24-hour daily express freight service to Paris, Brussels and the Rhine/Ruhr districts of West Germany. An additional 24-hour on-forwarding service from the company's German depot to every major city in West Germany enables British companies to export goods anywhere in West Germany within 48 hours. Guaranteed regular services are also provided between London and Stockholm and London and Gothenburg. The company offers a "money-back" guarantee if for any reason within the company control goods are not delivered to the receiving depot in the time specified.
Samuel Williams and Sons Ltd has a display showing its Thames Terminal, a modern bulk-handling port at Dagenham. A photomural of the terminal supplemented by large photographs will be a feature of the display. The company will also be showing the services it offers with its fleet of 300 vehicles under its transport company, Samuel Williams Transport Ltd. The vehicles are capable of carrying every type of load and operate from depots at Erdington, West Bromwich, Andover, Tilbury and Felixstowe. Continental operations contribute to the company's record of 3m tons of goods carried more than 10m miles a year.
Other port authorities will have exhibits at Earls Court The Port of Malmo Authority is one of these and it services not only the rapidly expanding city of Malmo but the trade-rich area of southern Sweden.
Nearer home, the Medway Port Authority which came into being in 1969, will be exhibiting. One of the principal features of interest of the Port is its connection with the introduction of the LASH system to this country. It has a LASH lighter terminal and a special deep-water mooring for LASH ships of up to 70,000 tons.
The Port of Dunkirk's stand will illustrate its growth and adaptation to container traffic. A new terminal being built will avoid the need for ships carrying container traffic to enter the enclosed tidal harbour.
On the East Coast the Port of Gt Yarmouth has the advantage of a small tidal range and this will be used as a feature of the port's exhibit.
The Dover Harbour Board's stand will show details of its proposed aim development to provide another car ferry berth and more sophisticated roll-on/roll-off freight facilities.
Handling equipment A wide range of handling equipment will be on display.
Abel Systems Ltd will be illustrating it total systems approach to the problems ol distribution. The company offers consultancy on all aspects of distribution, planning and operation. Its principal system is tht use of demountable containers as module: of direct delivery from the point o production to the customer, eliminating intermediate handling. Three exhibits on the stand will be the Abel demountable twin container, the demountable trailer and the Highway transporter developed for use in loading Jumbo jets.
A manufacturer of air cargo handling equipment with a stand is Weldwork Ltd, the company which manufactured and installed automatic multi-level storage and .pallet-handling equipment for Air Canada at London Airport. Weldwork has also completed a number of other cargo handling systems for major airlines. A display of Weldwork's pallet trailers and angle transfer platform will be found on its stand at Earls Court.
She!yoke and Drewry Ltd will show the latest addition to its Defiant range of fork-lift trucks. This is a 27-ton model which extends the range from a 4000!b-capacity model upwards. The range is designed to provide a comprehensive container handling system, the small units acting as feeders and the large ones lifting loaded containers. Three models will be on show, the 27-tonner, a medium-range model and the 4000lb-capacity machine. The small machine has hydrostatic two-pedal control and the larger ones torque convertor transmission.
Tank containers
Tank containers are the speciality of W. P. Butterfield (Engineers) Ltd and two models from the company's standard ISO range will be at the show.
A telescopic container loader on the stand of Newland Engineering Co Ltd will be mounted on a self-propelled chassis; the machine has an outreach of 33ft within a total length of only 40ft.
The Banner Church Organisation Ltd will have as its main exhibit its Containair range, IATA-registered air freight containers which qualify for international discounts on freight rates. Banner will also be displaying its mobile shelving which is a wire-constructed nest-stacking tray used in conjunction with a ,dolly for transporting a variety of products.
Joloda is a familiar name in the container and freight handling fields and the manufacturer, Joloda Transport Equipment Ltd, will be showing some of its new developments including a very heavy duty system.
Lansing Bagnall Ltd will display industrial trucks for applications in ports and terminals and demonstrations of fork-lift and reach trucks, pallet transporters and tow-tractors, both battery and electrically powered, will take place. An interesting exhibit will be the Lansing Bagnall Tractolift truck; a combined 5-ton towing tractor and 1-ton capacity fork-lift truck. The forks are raised and lowered hydraulically on this truck which was originally designed for handling parcels trolleys at BR's railway stations.
Among the other equipment exhibitors are Matbro (Sales) Ltd which will have a number of fork trucks on display including the Swinglift 5.80 model which doubles as a side loader or front-end fork truck and the
10-ton capacity Y200 yard truck.
Industrial tyres
Industrial tyres to be shown by Watts Tyres and Rubber Co Ltd will include the new Mono-Matic tyre which has been developed to replace pneumatic tyres for operating in severe conditions. Exhibited for the first time will be the new Mono-Cushion press-on solid tyre and the largest solid tyre produced in the UK; the 14.00-24, 52in. diameter Duratrak tyre will also be shown.
At least two companies will be showing industrial tractors: Alexander Stephen Container Handling Equipment Ltd will have two dockside /terminal tractors, the Sisu T9 and T10 models, on its stand and will also show a piece of ground handling equipment for container lifting, the Ground Conlifter. The other tractor exhibitor, F. L. Douglas (Equipment) Ltd, will show two models from its Tug master range.
A 22-ton mobile gantry for carrying 20ft ISO containers will be shown by Rollalong Ltd. As this unit is powered by a diesel engine it can operate independently of an electric power supply. Spreader beams of strong triangulated construction enable an unladen container to be stabilized during movement while the main weight is sustained by the chain slings and lifting beam.
Shorfast cargo control equipment will be shown by B. Dixon-Bate Ltd coveting an exceptionally wide range of applications for retaining almost any cargo against transit damage in containers and vehicles. The system is based on an installation of slotted track fitted to the container interior. Recent additions to the company's product range are a heavy-duty spring shoring bar, a special carrying rail for garments on hangers and a loadbinder strap assembly intended for securing loads on open vehicles.
P. C. and C. K. Chase Ltd will be exhibiting a range of loading ramps bridge plates, collapsible pallets and the Chase Pallet Convertor, while G. Hunter (London) Ltd will have on display a range of scissors-lift loading platforms including a giant-size model capable of lifting loads of as much as 75 tons. A dock leveller will also be shown.
It is not possible in this preview to cover all the exhibits; there are many more, particularly in the field of services. Freightliners Ltd will have a stand; Geest Transportation Group will display information on its road transport operation as well as shipping services; L. G. Perfect (Haulage) Ltd looks like being the sole representative of the haulage industry and it will show details of its complete distribution service. Air freight is further represented by Brinair Air Freight Division and by BEA Cargo, Air Canada and BOAC. The Containerbase Federation will be present, so too will some of the major banks and the trade Press. Freight Management, in particular, will be there representing other IPC transport journals and its counterparts front France, Germany, Holland and Sweden.
The four-day exhibition will be open from 9.30 am to 6 pm.