cropper's column
24th September 1971
Page 41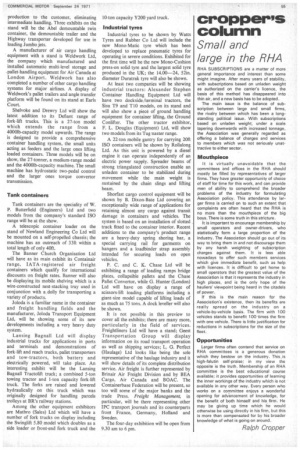 Page 41, 24th September 1971 —
cropper's column
Close
Small and large in the RHA
RHA SUBSCRIPTIONS are a matter of more general importance and interest than some might imagine. After many years of stability, with subscriptions based on unladen weight as authorized on the carrier's licence, the basis of this method has disappeared into thin air, and a new basis has to be adopted.
The main issue is the balance of subscription between large and small firms, the rivalry between which has been a longstanding political issue. With subscriptions based on unladen weight, under a scale tapering downwards with increased tonnage, the Association was generally regarded as offering a balance of charges and services to members which was not seriously unattractive to either sector.
Mouthpiece
It is virtually unavoidable that the committees and offices in the RHA should mostly be filled by representatives of larger firms. They have greater opportunity of choice of staff for time for this work, and can provide men of ability to comprehend the broader problems of the industry for formulating Association policy. This attendance by larger firms is carried on to such an extent that complaints are often heard that the RHA is no more than the mouthpiece of the big boys. There is some truth in this stricture.
It is important to encourage membership by small operators and owner-drivers, who statistically form a large proportion of the industry. The Association should go out of its way to bring them in and not discourage them by any harsh weighting of subscription charges against them. It is less able nowadays to offer such members services which give immediate benefit, such as help with licences. It is difficult to get home to small operators that the greatest value of the Association is that it represents the industry in high places, and is the only hope of the hauliers viewpoint being heard in the citadels of power.
If this is the main reason for the Association's existence, then its benefits are really spread on the industry on a vehicle-by-vehicle basis. The firm with 100 vehicles stands to benefit 100 times the firm with one vehicle. There is little justification for reductions in subscriptions for the size of the fleet.
'Opportunities
Larger firms often contend that service on RHA committees is a generous donation which they bestow on the industry. This.is high-falutin self-praise; in my view the opposite is the truth. Membership of an RHA committee is the best educational course available; it provides opportunities of learning the inner workings of the industry which is not available in any other way. Every person who works on a committee enjoys a wonderful opening for advancement of knowledge, for the benefit of both himself and his firm. He may be giving up time which he would otherwise be using directly in his firm, but this is more than compensated for by his broader knowledge of what is going on around.
Ralph Cropper