Arbitration settlements in sight
24th September 1971
Page 36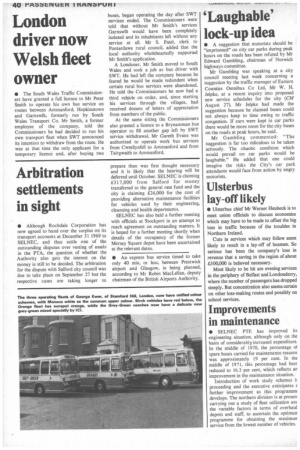 Page 36, 24th September 1971 —
Arbitration settlements in sight
Close
• Although Rochdale Corporation has now agreed to hand over the surplus on its transport accounts at December 31 1969 to SELNEC, and thus settle one of the outstanding disputes over vesting of asseis in the PTA, the question of whether the Authority also gets the interest on the money is still to be decided. The arbitration for the dispute with Salford city council was due to take place on September 27 but the respective cases are taking longer to prepare than was first thought necessary and it is likely that the hearing will be deferred until October. SELNEC is claiming £317,000 from Salford for money transferred to the general rate fund and the city is claiming £24,000 for the cost of providing alternative maintenance facilities for vehicles used by their engineering, cleansing and health departments.
SELNEC has also held a further meeting with officials at Stockport in an attempt to reach agreement on outstanding matters. It is hoped for a further meeting shortly when details of the occupancy of the former Mersey Square depot have been ascertained at the relevant dates.
• An express bus service timed to take only 40 min, or less, between Prestwick airport and Glasgow, is being planned, according to Mr Robin MacLellan, deputy chairman of the British Airports Authority.