Iighland subsidy bid
24th September 1971
Page 35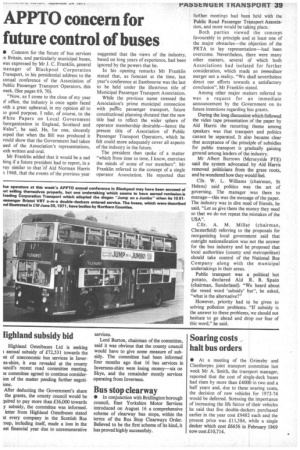 Page 35, 24th September 1971 —
Iighland subsidy bid
Close
Highland Omnibuses Ltd is seeking annual subsidy of £72,531 towards the ist of uneconomic bus services in Inver:ss-shire, it was revealed at the county iuncil's recent road committee meeting. 3e committee agreed to continue considerion of the matter pending further negotiions.
After deducting the Government's share the grants, the county council would be quire(' to pay more than £36,000 towards y subsidy, the committee was informed. letter from Highland Omnibuses stated at every company in the Scottish Bus :pup, including itself, made a loss in the est financial year due to unremunerative services.
Lord Burton, chairman of the committee, said it was obvious that the county council would have to give some measure of subsidy. The committee had been informed four months ago that 16 bus services in Inverness-shire were losing money—six on Skye, and the remainder mostly services operating from Inverness.
Bus stop clearway
• In conjunction with Bridlington borough council, East Yorkshire Motor Services introduced on August 16 a comprehensive scheme of clearway bus stops, within the terms of the Bus Stop Clearways Order. Believed to be the first scheme of its kind, it has proved highly successfuly.