NFC affirms confidence in future of BRS
24th September 1971
Page 30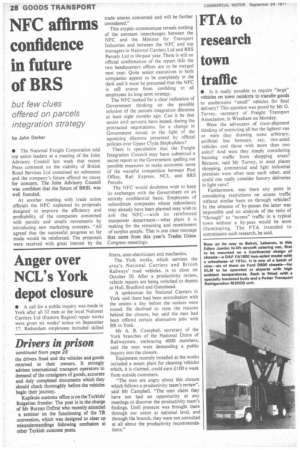 Page 30, 24th September 1971 —
NFC affirms confidence in future of BRS
Close
but few clues offered on parcels integration strategy
by John Darker • The National Freight Corporation told top union leaders at a meeting of the Joint Advisory Council last week that recent Press comment on the viability of British Road Services Ltd contained no substance and the company's future offered no cause for concern. The Joint Advisory Council was confident that the future of BRSL was well founded.
At another meeting with trade union officials the NFC explained its proposals designed to improve the efficiency and profitability of the companies concerned with parcels and smalls movements by introducing new marketing concepts. "All agreed that the successful progress so far made would be reinforced. The proposals were received with great interest by the trade unions concerned and will be further considered."
This cryptic communique reveals nothing of the constant interchanges between the NFC and the Minister for Transport Industries and between the NFC and top managers in National .Carriers Ltd and BRS Parcels Ltd in the past year. There is still no official confirmation of the report that the two headquarters offices are to be merged next year. Quite senior executives in both companies appear to be completely in the dark and it must be presumed that the NFC is still averse from confiding to all employees its long-term strategy.
The NFC looked for a clear indication of Government thinking on the possible solution of the parcels integration dilemma at least eight months ago. Can it be that senior civil servants have hoped, during the protracted negotiations, for a change in Government mood, in the light of the agonizing dilemma presented by official policies over Upper Clyde Shipbuilders?
There is speculation that the Freight Integration Council may have submitted a secret report to the Government spelling out possible measures to make economic sense of the wasteful competition between Post Office, Rail Express, NC L and BRS Parcels.
The NFC would doubtless wish to keep its exchanges with the Governinent on an entirely confidential basis. Employees of subordinate companies whose redundancy may already have been planned may wish to ask the NFC—with its reinforced manpower department—what plans it is making for the retraining and resettlement of surplus poeple. That is one clear message that came from this year's Trades Union Congress meeetings.