FTA to research town traffic
24th September 1971
Page 30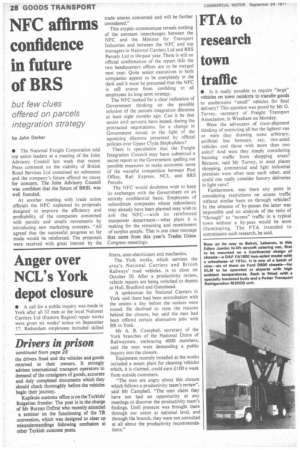 Page 30, 24th September 1971 —
FTA to research town traffic
Close
• Is it really possible to require "large" vehicles on town outskirts to transfer goods to unobtrusive "smallvehicles for final delivery? This question was posed by Mr G. Turvey, secretary of Freight Transport Association, in Wrexham on Monday.
Were the advocates of trans-shipment thinking of restricting all but the lightest van or were they drawing some arbitrary, artificial line between, say, two-wded vehicles and those with more than two axles? And were they simply considering banning traffic from shopping areas? Because, said Mr Turvey, in most places shopping, commercial and light industrial premises were often near each other, and could one really consider factory deliveries in light vans?
Furthermore. was there any point in considering restrictions on access traffic without similar bans on through vehicles? In the absence of by-passes thelatter was impossible and an analysis of the ratio of "through" to "access" traffic in a typical town without a by-pass would be most illuminating. The FTA intended to commission such research, he said.