Union bans new-driver jobs in Midlands
24th September 1971
Page 28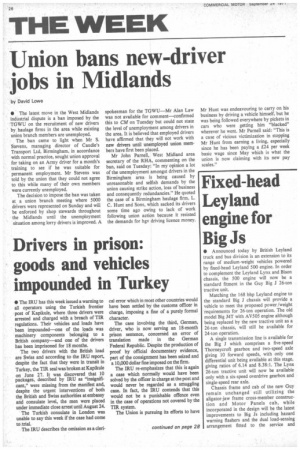 Page 28, 24th September 1971 —
Union bans new-driver jobs in Midlands
Close
by David Lowe • The latest move in the West Midlands industrial dispute is a ban imposed by the TGWU on the recruitment of new drivers by haulage firms in the area while existing union branch members are unemployed.
The ban came to light when Mr S. Stevens. managing director of Caudle's Transport Ltd, Birmingham, in accordance with normal practice, sought union approval for taking on an Army driver for a month's training to see if he was suitable for permanent employment. Mr Stevens was told by the union that they could not agree to this while many of their own members were currently unemployed.
The decision to impose the ban was taken at a union branch meeting where 5000 drivers were represented on Sunday and will be enforced by shop stewards throughout the Midlands until the unemployment situation among lorry drivers is improved. A
spokesman for the TGWU—Mr Alan Law was not available for comment—confirmed this to CM on Tuesday but could not state the level of unemployment among drivers in the area. It is believed that employed drivers have affirmed that they will not work with new drivers until unemployed union members have first been placed.
Mr John Parnell, West Midland area secretary of the RHA, commenting on the ban, said on Tuesday: "In my opinion a lot of the unemployment amongst drivers in the Birmingham area is being caused by unreasonable and selfish demands by the union causing strike action, loss of business and consequently redundancies." He quoted the case of a Birmingham haulage firm, L. C. Hunt and Sons, which sacked its drivers some time ago owing to lack of work following union action because it resisted the demands for hgv driving licence money. Mr Hunt was endeavouring to carry on his business by driving a vehicle himself, but he was being followed everywhere by pickets in cars who were getting him "blacked" wherever he went. Mr Parnell said: "This is a case of vicious victimization in stopping Mr Hunt from earning a living, especially since he has been paying a £.24 per week basic wage since May which is what the union is now claiming with its new pay scales."