Trouble in the Balkans
24th September 1971
Page 27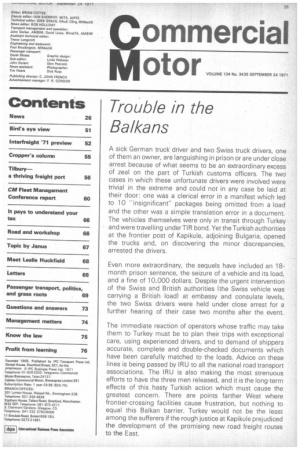 Page 27, 24th September 1971 —
Trouble in the Balkans
Close
A sick German truck driver and two Swiss truck drivers, one of them an owner, are languishing in prison or are under close arrest because of what seems to be an extraordinary excess of zeal on the part of Turkish customs officers. The two cases in which these unfortunate drivers were involved were trivial in the extreme and could not in any case be laid at their door: one was a clerical error in a manifest which led to 10 -insignificantpackages being omitted from a load and the other was a simple translation error in a document. The vehicles themselves were only in transit through Turkey and were travelling under TIR bond. Yet the Turkish authorities at the frontier post of Kapikule, adjoining Bulgaria, opened the trucks and, on discovering the minor discrepancies, arrested the drivers.
Even more extraordinary, the sequels have included an 18month prison sentence, the seizure of a vehicle and its load, and a fine of 10,000 dollars. Despite the urgent intervention of the Swiss and British authorities (the Swiss vehicle was carrying a British load) at embassy and consulate levels, the two Swiss drivers were held under close arrest for a further hearing of their case two months after the event.
The immediate reaction of operators whose traffic may take them to Turkey must be to plan their trips with exceptional care, using experienced drivers, and to demand of shippers accurate, complete and double-checked documents which have been carefully matched to the loads. Advice on these lines is being passed by IRU to all the national road transport associations. The IRU is also making the most strenuous efforts to have the three men released, and it is the long-term effects of this hasty Turkish action which must cause the greatest concern. There are points farther West where frontier-crossing facilities cause frustration, but nothing to equal this Balkan barrier. Turkey would not be the least among the sufferers if the rough justice at Kapikule prejudiced the development of the promising new road freight routes to the East.