Testing Surface Finish by Stethoscope
24th May 1948
Page 41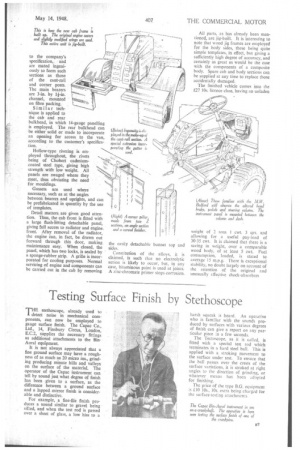 Page 41, 24th May 1948 —
Testing Surface Finish by Stethoscope
Close
THE stethoscope, already used to detect noise in mechanical components, can now be employed to gauge surface finish. The Capac Co., Ltd., 14, Finsbury Circus, London, E.C.2, supplies the necessary fittings as additional attachments to the BinAural equipment.
It is not always appreciated that a fine ground surface may have a roughness of as much as 20 micro ins., grinding producing minute hills and valleys on the surface of the material. The operator of the Capac instrument can tell by sound just what degree of finish has been given to a surface, as the difference between a ground surface and a lapped mirror finish is consider able and distinctive.
For example, a fine-file finish produces a sound similar to gravel being sifted, and when the test rod is passed over a sheet of glass, a low hiss to a harsh squeak is heard, An operative who is familiar with the sounds produced by surfaces with various degrees of finish can give a report on any particular piece in a few seconds.
The Tectoscope, as it is called, is fitted with a special test rod which terminates in a hard steel ball. This is applied with a stroking movement to the surface under test. To ensure that the ball passes over the crests of the surface variations, it is stroked at right angles to the direction of grinding, or whatever means has been adopted for finishing.
The price of the type B.G. equipment is 110 10s., 10s. extra being charged for the surface-testing attachments,