Ex-WD. Vehicles Made Practical
24th May 1948
Page 40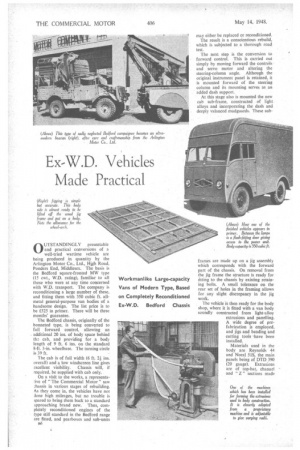 Page 41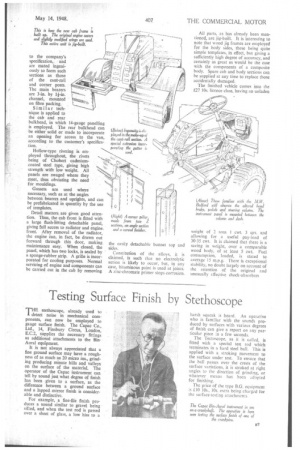 Page 40, 24th May 1948 —
Ex-WD. Vehicles Made Practical
Close
OUTSTANDINGLY presentable and practical conversions of a well-tried wartime vehicle are being produced in quantity by the Arlington Motor Co., Ltd., High Road, Ponders End, Middlesex. The basis is the Bedford square-fronted MW type (15 cwt., W.D. rating), familiar to all those who were at any time concerned with W.D. transport. The company is reconditioning a large number of these, and fitting them with 350 cubic ft. allmetal general-purpose van bodies of a handsome design. The list price is to be £525 in primer. There will be three months' guarantee.
The Bedford chassis, originally of the bonneted type, is being converted to full forward control, allowing an additional 20 ins, of body space behind the cab, and providing for a body length of 9 ft. 6 ins, on the standard 13-ft. 3-in. wheelbase. The turning circle is 39 ft.
The cab is of full width (6 ft. 24 ins. overall) and a low windscreen line gives excellent visibility. Chassis will, if required, be supplied with cab only, On a visit to the works, a representaive of "The Commercial Motor" saw ehassis in various stages of rebuilding. As they come in, the vehicles have not lone high mileages, but no trouble is ;pared to bring them back to a standard approaching brand new.. Thus, completely reconditioned engines of the type still standard in the Bedford range are fitted, and gearboxes and sub-units n6 may either be replaced or reconditioned. The result is a conscientious rebuild, which is subjected to a thorough road test.
The next step is the conversion to forward control. This is carried out simply by moving forward the controls and servo motor and altering the steering-column angle. Although the original instrument panel is retained, it is mounted forward of the steering column and its mounting serves as an added dash support.
At this stage also is mounted the new cab sub-frame, constructed of light alloys and incorporating the dash and deeply valanced mudguards. These sub frames are made up on a jig assembly which corresponds with the forward part of the chassis. On removal from the jig frame the structure is ready for fitting to the chassis by existing retaining bolts. A small tolerance on the rear set of holes in the framing allows for any slight discrepancy in the jig work.
The vehicle is then ready for the body shop, where it is fitted with a van body soundly constructed from light-alloy extrusions and panelling. A wide degree of prefabrication is employed, and jigs and bending and cutting tools have been installed.
Materials used in the body are Reynolds 44 and Noral 51S, the main panels being of DTD.390 (20 gauge). Extrusions are of top-bat, channel and " Z " sections made
to the company's specification, and are mated ingeniously to form such sections as those of the cant-rail and corner .posts. The main bearers are 3-in. by Win. channel, mounted on fibre packing.
Similar technique is applied to the cab and rear bulkhead, in which 14-gauge panelling is employed. The rear bulkhead can be either solid or made to incorporate an opening for access to the van, according to the customer's specification.
Hollow-type riveting is employed throughout, the rivets being of Chobert cadmiumcoated steel type, giving high strength with low weight. All panels are swaged where they meet, thus obviating the need for mouldings.
Gussets are used where necessary, such as at the angles between bearers and uprights, and can be prefabricated in quantity by the use of templates.
Detail matters are given good attention. Thus, the cab front is fitted with a large f1ush4itting detachable panel, giving full access to radiator and engine, front. After removal of the radiator, the engine Can, in fact, be drawn out forward through this door, making maintenance easy. When closed, the panel, which has two locks, is sealed by a sponge-rubber strip. A grille is incorporated for cooling purposes. Normal servicing of engine and components can be carried out in the cab by removing the easily detachable bonnet top and sides.
Constitution of the alloys, it is claimed, is such that no electrolytic action is likely to occur, but, in any case, bituminous paint is used at joints. A zinc-chromate primer stops corrosion. All parts, as has already been mentioned, are jig-built. It is interesting to note that wood jig frames are employed for the body sides, these being quite simple templates, in effect, but giving a sufficiently high degree of accuracy, and certainly as great as would be the case with the components of a composite body. Spare cab and body sections can be supplied at any time to replace those accidentally damaged.
The finished vehicle conies into the £27 10s. licence class, having an unladen
weight of 2 tons 1 cwt. 3 qrs. and allowing for a useful pay-load of 30-35 cwt. It is claimed that there is a saving in weight, over a comparable wood body, of at least 5 cwt. Fuel consumption, loaded, is stated to average 15 mp.g. There is exceptional stability, no doubt largely on account of the retention of the original and unusually effective shock-absorbers