A New Tractor for Road Work
24th May 1948
Page 39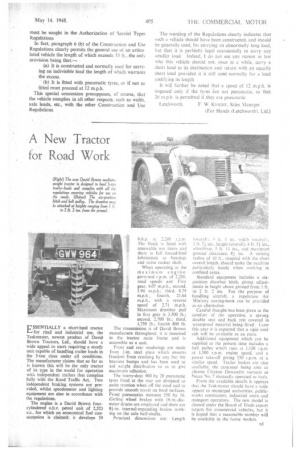 Page 39, 24th May 1948 —
A New Tractor for Road Work
Close
CSSENTIALLY a short-haul tractor 1---t for road and industrial use, the Taskmaster, newest product of David Brown Tractors, Ltd., should have a wide appeal to users requiring a sturdy unit capable of handling trailer loads in the 5-ton class under all conditions. The manufacturer claims that so far as is known this will be the only tractor of its type in the world for operation with independent trailers that complies fully with the Road Traffic Act. Two independent braking systems are pro.vided, whilst speedometer and lighting equipment are also in accordance with the regulations.
The engine is a David Brown fourcylindered o.h.v. petrol unit of 2,523 c.c., for which an economical fuel consumption is claimed; it develops 39
b.h.p. at 2.200 r.p.nt The Mock is fitted with renewable wet liners and there is full forced-feed lubrication to bearings and valve rocker shaft.
When operating at the maximum enginegoverned apan. of 2.200. road speeds are: First gear, 4.07 m.p.h., second, 5.94 m.p.h.; third, 8.79
m.p.h ; fourth, 21.64 m.p.h., with a reverse speed of 2.71 m.p.h. Maximum drawbar pull in first gear is 3,500 lb.; second, 2,700 lb.; third, 1,750 lb.; fourth 800 lb.
The transmission is of David Brown manufacture throughout; it is mounted in the tractor main frame and is accessible as a unit.
Front and rear mudwings are made
from steel plate which ensures freedom from crushing by any but the heaviest bumps and has been used to aid weight distribution so as to give maximum adhesion.
The heavy-duty 900 by 20 pneumatic tyres fitted at the rear arc designed to assist traction when off the road and to provide smooth travel on hard surfaces. Front pneumatics measure 550 by 16. Girling wheel brakes with 16-in.-diameter drums are employed and there are 8i-in. internal-expanding brakes working on the axle half-shafts:
.Principal dimensions are Length
toveralla 9 ii. 1 in., width (overall), 5 ft. 7:4 ins., height (overall), 4 ft. Si ins., wheelbase. 5 ft. 11 ins., and maximum around clearance, 81 ins. A turning radius of JO ft., coupled with the short overall length, should make the machine particularly handy when working in confined areas.
Standard equipment includes a sixposition drawbar hitch, giving adjustments in height above ground from 1 ft. to 2 ft. 2 ins. For the purpose of handling aircraft, a regulation Air Ministry towing-hook can be provided as an alternative.
Careful thought has been given to the comfort of the operative, a sprung double seat and back rest covered in waterproof material being fitted. Later this year it is expected that .a rigid steel cab will be available as an extra.
Additional equipment which can be supplied at the present time includes a belt pulley which runs at 1,130 ap.m. at 1.300 r.p.m. engine speed, and a power take-off giving 550 ap.m. at a similar speed. Trailer brakes are also available, the customer being able to choose Clayton Dewandre vacuum or Neate No. 7 manually operated or both.
From the available details it appears that the Taskmaster should have a wide appeal to municipal authorities, publicworks contractors, industrial users and transport operators. The new model is classed under the Board of Trade export targets for commercial vehicles, but it is hoped that a reasonable number will be available to the home market.