THE USE OF OVER-LENGTH ARTICULATED VEHICLES I HAVE read with
24th May 1948
Page 38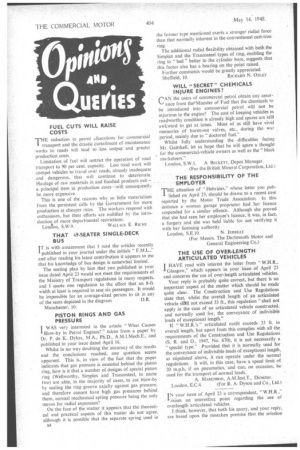 Page 39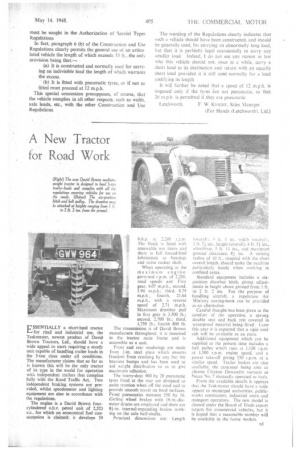 Page 38, 24th May 1948 —
THE USE OF OVER-LENGTH ARTICULATED VEHICLES I HAVE read with
Close
interest the letter from " W.H.R.. 1 Glasgow," which appears in your issue of April 23 and concerns the use of over-length articulated vehicles.
Your reply is probably quite correct, but there is an important aspect of the matter which should be made quite clear. The Construction and Use Regulations state that, whilst the overall length of an articulated vehicle stall not exceed 33 ft., this regulation "shall not apply in the case of an articulated vehicle constructed, and normally used for, the conveyance of indivisible loads of exceptional length."
If " W.H.R.'s" articulated outfit exceeds 33 ft. in overall length, but apart from this complies with all the requirements of the Construction and Use Regulations (S. R. and 0., 1947, No. 670), it is not necessarily a "special type." Provided that it is normally used for the conveyance of indivisible loads of exceptional length, as stipulated above, it can operate under the normal regulations. It will, in this case, have a speed limit of 20 m.p.h, if on pneumatics, and can, on oecasion, be used for the transport of normal loads.
A. MARENBON, A.M.Inst.T., Director.
London, E.C.4. (For R. A. Dyson and Co., Ltd.)
IN your issue of April 23 a correspondent, " W.H.R.," I raises an interesting point regarding the use of overlength articulated vehicles.
I,think, however, that both his query, and your reply, are based upon the mistaken premise that the Solution must be sought in the Authorization of Special Types Regulations In fact, paragraph 6 (b) of the Construction and Use Regulations clearly permits the general use of an articulated vehicle the length of which exceeds 33 ft., the on15., provision being that— (a) It is constructed and normally used for carrying an indivisible load the length of which warrants the excess.
(b) It is fitted with pneumatic tyres, or if not so fitted must proceed at 12 m.p.h.
This special, concession presupposes, of course, that the vehicle complies in all other respects, such as width, axle loads, etc., with the other Construction and Use Regulations. The wording of the Regulations clearly indicates that such a vehicle should have been constructed, and should be generally used, for carrying an abnormally tone load, but that it is perfectly legal occasionally to carry any smaller load. Indeed, I do not see any reason in law why this vehicle should not. once in a while, carry a short load to its destination and return with an equally short load provided it is still used normally for a load justifying its length
It will further be noted that a speed of [2 m.p.h. is imposed only if the tyres 'are not pneumatic, so that 20 m.p.h. is permitted if they are pneumatic.
Letchworth_ F. W. KNIGHT, Sales Manager.
(For Hands (Letchworth). Ltd.)