PISTON RINGS AND GAS PRESSU RE 1 WAS very interested in
24th May 1948
Page 38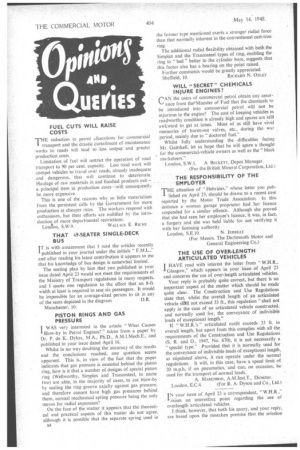 Page 38, 24th May 1948 —
PISTON RINGS AND GAS PRESSU RE 1 WAS very interested in
Close
the article "What Causes Blow-by in Petrol Engines?" taken from a paper by Dr. P. de K. Dykes, M.A., Ph.D., A.M.I.Mech.E., and published in your issue dated April 16.
Whilst in no way doubting the accuracy of the results and the conclusions reached, one question seems apparent. This is, in view of the fact that the paper indicates that gas pressure is essential behind the piston ring, how is it that a number of designs of special piston ring (Wellworthy, Simplex and Trancosteel, to name two) are able, in the majority of cases, to cut blow-by by sealing the ring groove axially against gas pressure, and therefore cannot have high gas pressures behind them, normal mechanical spring pressure being the only means for radial expansion?
On the face of the matter it appears that the theoretical and practical aspects of this matter do not agree, although it is possible that the separate spring used in B4 the former type mentioned exerts a stronger radial force than that normally inherent in the conventional cast-iron ring.
The additional radial flexibility obtained with both The Simplex and the Trancosteel types of ring, enabling the ring to " bed " better to the cylinder bore, suggests that this factor also has a bearing on the point raised.
Further comments would be greatly appreciated.
Sheffield, 10. RICHARD N. OXLEY