FUEL CUTS WILL RAISE COSTS
24th May 1948
Page 38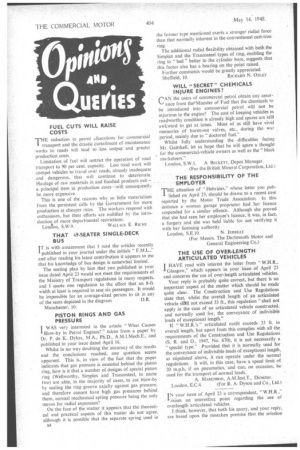 Page 38, 24th May 1948 —
FUEL CUTS WILL RAISE COSTS
Close
THE reduction in petrol allocations for commercial A transport and the drastic curtailment of maintenance works to roads wilt lead to -less outpqt and greater production costs.
Limitation of fuel will restrict the operation of road transport to 90 per cent. capacity. Less road work will compel vehicles to travel over roads, already inadequate and dangerous, that will continue to deteriorate. Haulage of raw materials in and finished products out.— a principal item in production costs—will consequently be more expensive.
This is one of the reasons why so little materializes from the persistent calls by the Government for more production at cheaper rates. The workers respond with enthusiasm, but their efforts are nullified by the introduction of more departmental restrictions.
Lonctori, S.W.9. WALLACE E. Rican