Weatherproof Glazing Simplified A QUICK and easy means for permanently sealing
24th May 1948
Page 37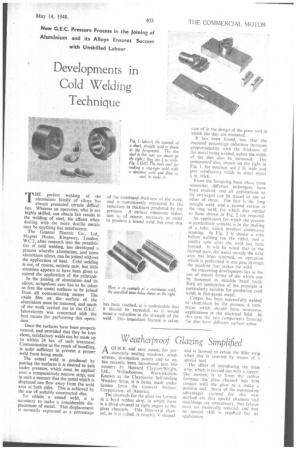 Page 37, 24th May 1948 —
Weatherproof Glazing Simplified A QUICK and easy means for permanently sealing
Close
windows, windscreens, destination panels and so on, has recently been introduced into this country by Howard Clayton-Wright, Ltd., Wellesbourne, Warwickshire. Known as the Claytonrite Self-sealing Weather Strip, it is being made under licence from the General Motors' Corporation, of America.
The channels for the glass are formed in a hard rubber strip, in which there is a third channel at right angles to the glass channels. This filler-strip channel, as it is called, is roughly V-shaped, and is formed to retain the tiller strip when this is inserted by means of a special tool.
The effect of introducing the filler strip, which is carried out with a zipperlike motion, is to force the rubber forming the glass channel into firm contact with the class to a _make a positive seal_ Some of the outstanding advantages claimed for this new method are that special channels and mouldings are unnecessary, that labour costs are -materially reduced, and that no special skill is rectified for its application.