Bradford Cleansing System Recast A RECENT reorganization of Bradford Cleansing Department's
24th May 1948
Page 32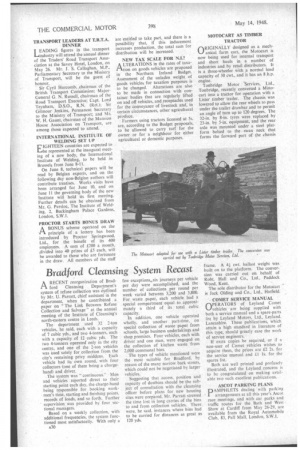 Page 32, 24th May 1948 —
Bradford Cleansing System Recast A RECENT reorganization of Bradford Cleansing Department's
Close
Keywords :
system of refuse collection was outlined by Mr. U. Parratt, chief assistant inthe department, when he contribOted a paper on "The Link Between Refuse Collection and Salvage" at the annual meeting of the Institute of Cleansing's north-eastern centre in Leeds.
The department used 32 2-ton vehicles, he said, each with a capacity of 7 cubic yds., and two 4-tonners, each with a capacity of 12 cubic yds. The two 4-tonners operated only in the city centre, and one of the 2-ton vehicles was Used solely for collection from the city's remaining privy middens. Each vehicle had its own round, with four collectors (one of them being a chargehand) and driver.
The system was "continuous." Men and vehicles reported direct to their starting point each day, the charge-hand being responsible for booking workmen's time, starting and finishing points, records of loads, and so forth. Further supervision was provided by four sectional managers.
Based on a weekly collection, with additional frequencies, the system functioned most satisfactorily. With only a A30
few exceptionssix journeys per vehicle per day were accomplished, and the number of collections per round per week varied between 3,200 and 3,800. For waste paper, each vehicle had a special compartment equal to approximately a third of its total cubic capacity.
In addition, one vehicle operated wholly, and another part-time, on special collection of waste paper from schools, large business undertakings and shop premises. Four vehicles, each with driver and one man, were engaged on the collection of kitchen waste from 2,000 communal bins.
The types of vehicle mentioned were the most suitable for Bradford, by reason of the many narrow back streets, which could not be negotiated by larger vehicles.
Suggesting that access, position and capacity of dustbins should be the subject of consultation with the cleansing officer before plans for new housing sites were prepared, Mr. Parratt stressed the time lost in lone carries of the bins to and from collection vehicles. There were, he said, instances where bins had to be carried for distances as great as 120 yds. frame. A 4:1 cwt. ballast weight was built on to the platform. The conversion was carried out oh behalf of Robt. Hall and Co., Ltd.. Paddock Wood, Kent.
The sole distributor for the Motocart is Jack Olding and Co., Ltd., Hatfield.
COMET SERVICE MANUAL OPERATORS of Leyland Comet vehicles are being supplied with both a service manual and a spare-parts list by Leyland Motors, Ltd., Leyland. Lancashire. These publications, which attain a high standard in literature of this type, should greatly ease the work of service engineers.
If extra copies be required. or if a non-user of Comet vehicles wishes to acquire them, the prices are £2 2s. for the service manual and £1 Is. for, the spares list.
Both are well printed and profusely illustrated, and the Leyland, concern is to be congratulated on making available two such excellent publications.
ASCOT PARKING PLANS
PAMPHLETS dealing with parking arrangements at all this year's Ascot race meetings, and with car parks and traffic routes for the Bath and West Show it Cardiff from May 26-29, are available from the Royal Automobile Club, 83, Pall Mall, London, S.W.1.