YANKS AT OXFORD
24th May 1948
Page 31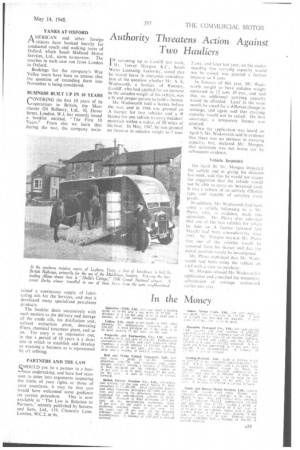 Page 31, 24th May 1948 —
YANKS AT OXFORD
Close
A MF.RICAN and other foreign
visitors have booked heavily for conducted coach and walking tours of Oxford, which South Midland Motor Services, Ltd., starts to-morrow. The coaches in each case run from London to Oxford.
Bookings for the company's Wye Valley tours have been so intense that the question of extending them into November is being considered.
BUSINESS BUILT UP IN 10 YEARS
COVERING the first 10 years of its 1....,operations in Britain, the Manchester Oil Refinery, Ltd., 10, Dover Street, London, W.1, has recently issued a. booklet entitled, "The First 10 Years." From this we learn that during the war, the company main
tamed a continuous supply of lubricating oils for the Services, and that it developed many specialized petroleum products.
The booklet deals successively with such matters as the delivery and storage of the crude oils, the distillation unit, solvent extraction plant, dewaxing filters, chemical treatment plant, and so on. The story is an impressive one, in that a period of 10 years is a short one in which to establish and develop so exacting a business as is represented by oil refining.
PARTNERS AND THE LAW
SHOULD you be a partner in a busiLiness undertaking, and have had occasion to enter into arguments respecting the limits of your rights or those of your associates. it may be that you would have welcomed some guidance
on correct procedure. This is now available in "The Law in Relation to Partners," recently published by Stevens and Sons, Ltd., 119, Chancery Lane, London, W.C.2, at 4s.