Authority Threatens Action Against
24th May 1948
Page 31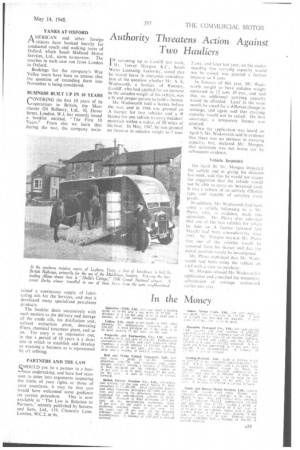 Page 31, 24th May 1948 —
Authority Threatens Action Against
Close
Two Hauliers
IN summing up at Cardiff last week, Mr. Trevor Morgan, K.C., South Wales Licensing Authority, stated that he would leave in abeyance consideration of the question whether Mr. A. E. Wadsworth, a haulier, of Rumney, Cardiff, who had applied for an increase in the unladen weight of his vehicle, was a fit and proper person to hold a licence.
Mr. Wadsworth held a licence before the war, and in 1946 was granted an A licence for two vehicles and a B licence for one vehicle to carry builders' materials within a radius of 50 miles of his base. In May, 1947. he was granted an increase in unladen weight to 7 tons
2 cwt.. and later last year, on the understanding that carrying capacity would not he raised, was granted a further increase to 8 tons.
In January of this year, Mr. Wadsworth sought to have unladen weight increased to 12 tons 19 cwt., and said that no additional carrying capacity would be idforded. Later in the saute month he asked for a different change in tonnage, and again said that carrying capacity would not be raised. On that assurance, a temporary licence was eranted.
When the application was heard on April 9, M r. Wadsworth said in evidence that there was no increase in carrying capacity, hut, declared Mr. Morgan. that statement was not borne out by subsequent evidence.
Vehicle Inspected On Am il 30. Mr. Morgan inspected the vehicle and in giving his decision last week, said that he would not accept the suggestion that the vehicle would not be able to carry an increased load. It was a vehicle of an entirely different type, and capable of carrying extra goods.
In addition, NI r. Wadsworth had beet using a vehicle belonging to a Me Pleas, who, in evidence, made this admission. Mr. PICAYS also admitted that one or the two vehicles for NA bleb be held an A licence (granted last March) had been unroadworthy since 1943. Mr. Morgan warned Mr. Plea s that one of the vehicles would be removed from his licence and that the petrol position would be investigated.
Ni r. Pleas explained that Mr. Wadsworth had been using the vehicle on trial with a view to purchase.
Morgan refused Mr. Wadsworth-s application and cancelled the temporary substitution of tonnage authoriied earlier this year.