One Hears —
24th May 1948
Page 27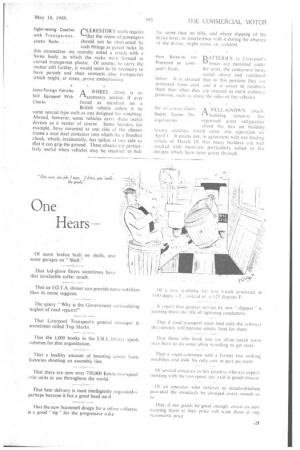 Page 27, 24th May 1948 —
One Hears —
Close
Of more bodies built on shells, and some garages on "Shell."
That kid-glove fitters sometimes have that invaluable softer touch.
That an I.O.T.A. dinner can provide more nutrition than its name suggests.
The query " Why is the Government nationalizing neglect of road repairs?"
That Liverpool Transport's general manager is sometimes called Top Marks.
That the 1,000 books in the librai y speak volumes for that organization.
That a healthy amount of boasting comes from factories shooting an assembly line.
That there are now over 750,000 Eaton two-speed axle units in use throughout the world.
That beer delivery is most intelligently organized— perhaps because it has a good head on it That the new Scanunell design for a refuse collector is a good " tip" for the progressive ted.c
Of a TWA synthetic for tyre treads produced at 0-40 degrt's F.. instead of at 125 degrees F.
A report that quicker service by new " clippies is earning them the title of lightning conductors.
That if road transport must feed only the railways the industry will become simply food for them.
That those who book late for aIl-in coach tours inay have to do some all-in wrestling to get seats.
That a super-salesman sold a farmer two milking machines and took his only cow in part payment
01 several concerns in this country who ate experimenting with the two-speed rear axle in goods chasiis.
Of an operator who believes in standardization provided the standards be changed every month or That, if Our goods be good enough, counties now wanting them at their price will want them At any reasonable price