The Common Room
24th June 1966
Page 78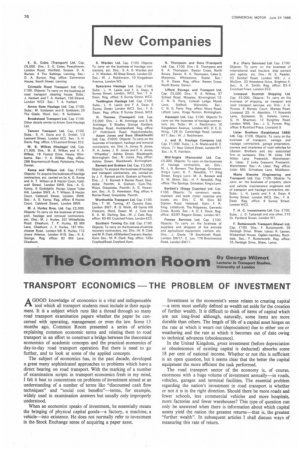 Page 78, 24th June 1966 —
The Common Room
Close
TRANSPORT ECONOMICS THE PROBLEM OF INVESTMENT
AGOOD knowledge of economics is a vital and indispensable tool which all transport students must include in their equipment. It is a subject which runs like a thread through so many road transport examination papers whether the paper be concerned with operating, management or even the law. Some 13 months ago, Common Room presented a series of articles explaining common economic terms and relating them to road transport in an effort to construct a bridge between the theoretical economics of academic concepts and the practical economics of day-to-day road transport operation. But there is need to go further, and to look at some of the applied concepts.
The subject of economics has, in the past decade, developed a great many sophisticated approaches to problems which have a direct bearing on road transport. With the marking of a number of examination scripts in transport economics fresh in my mind, I felt it best to concentrate on problems of investment aimed at an understanding of a number of terms like "discounted cash flow techniques" and "social cost beneflts"-terms, for example, widely used in examination answers but usually only improperly understood.
When an economist speaks of investment, he essentially means the bringing of physical capital goods-a factory, a machine, a vehicle-into existence. He does not normally refer to investment in the Stock Exchange sense of acquiring a paper asset. Investment in the economist's sense relates to creating capital -a term most usefully defined as wealth set aside for the creation of further wealth. It is difficult to think of items of capital which are not long-lived although, naturally, some items are more durable than others. The length of life of a capital asset hinges on the rate at which it wears out (depreciation) due to either use or weathering and the rate at which it becomes out of date owing to technical advances (obsolescence).
In the United Kingdom, gross investment (before depreciation or obsolescence of existing capital is deducted) absorbs some 18 per cent -of national income. Whether or not this is sufficient is an open question, but it seems clear that the better the capital equipment the more efficient the task performed.
The road transport sector of the economy is, of course, enormous with a huge volume of investment annually-in roads, vehicles, garages and terminal facilities. The essential problem regarding the nation's investment in road transport is whether or not it is in the right direction. Should there be more roads and fewer schools, less commercial vehicles and more hospitals, more factories and fewer warehouses? This type of question can only be answered when there is information about which capital assets yield the nation the greatest returns-that is, the greatest "further wealth". In subsequent articles I shall discuss ways of measuring this rate of return.