In Your Opinion
24th June 1966
Page 61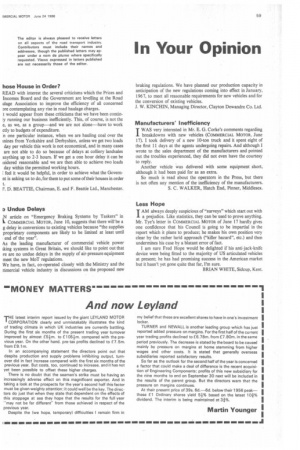 Page 61, 24th June 1966 —
In Your Opinion
Close
hose House in Order?
READ with interest the several criticisms which the Prices and Incomes Board and the Government are levelling at the Road ulage Association to improve the efficiency of all concerned ore contemplating any rise in road haulage charges.
t would appear from these criticisms that we have been continLy running our business inefficiently. This, of course, is not the e, as we, as a group—and we are not alone—have to work ctly to budgets of expenditure.
:n one particular instance, when we are hauling coal over the mines from Yorkshire and Derbyshire, unless we get two loads day per vehicle this work is not economical, and in many cases are not able to do so because of delays at colliery landsales anything up to 2-3 hours. If we get a one hour delay it can be isidered reasonable and we are then able to achieve two loads day within the permitted working hours.
[ feel it would be helpful, in order to achieve what the Governat is asking us to do, for them to put some of their houses in order t.
F. D. BEATTIE, Chairman, E. and F. Beattie Ltd., Manchester.
II Undue Delays N article on "Emergency Braking Systems by Taskers" in L COMMERCIAL MOTOR, June 10, suggests that there wine a g delay in conversions to existing vehicles because "the supplies proprietary components are likely to be limited at least until end of the year".
As the leading manufacturer of commercial vehicle power Lking systems in Great Britain, we should like to point out that re are no undue delays in the supply of air-pressure equipment meet the new MoT regulations.
We have, in fact, co-operated closely with the Ministry and the trnercial vehicle industry in discussions on the proposed new braking regulations. We have planned our production capacity in anticipation of the new regulations coming into effect in January, 1967, to meet all reasonable requirements for new vehicles and for the conversion of existing vehicles.
J. W. KINCHIN, Managing Director, Clayton Dewandre Co. Ltd.
Manufacturers' Inefficiency T WAS very interested in Mr. E. G. Corke's comments regarding 1 breakdowns with new vehicles (COMMERCIAL MOTOR, June 17). I took delivery of a new 10-ton truck and it spent eight of the first 11 days at the agents undergoing repairs. And although I wrote to the sales department of the manufacturers and pointed out the troubles experienced, they did not even have the courtesy to reply.
Another vehicle was delivered with some equipment short, although it had been paid for as an extra.
So much is read about the operators in the Press, but there is not often any mention of the inefficiency of the manufacturers. S. C. WALKER, Hatch End, Pinner, Middlesex.
Less Hope T AM always deeply suspicious of "surveys" which start out with I a prejudice. Like statistics, they can be used to prove anything. Mr. Tye's letter in COMMERCIAL MOTOR of June 17 hardly gives one confidence that his Council is going to be impartial in the report which it plans to produce; he makes his own position very clear by the rather lurid approach ("killer hazard", etc.) and then undermines his case by a blatant error of fact.
I am sure Fred Hope would be delighted if his anti-jack-knife device were being fitted to the majority of US articulated vehicles at present; he has had promising success in the American market but it hasn't yet gone quite that far, I'm sure.
BRIAN WHITE, Sidcup, Kent.