And now Leyland
24th June 1966
Page 61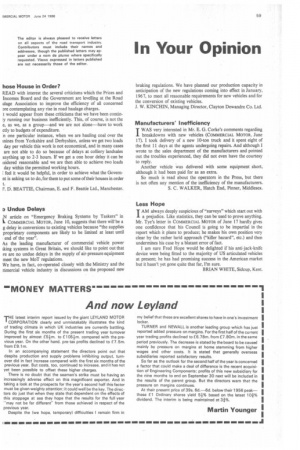 Page 61, 24th June 1966 —
And now Leyland
Close
TH E latest interim report issued by the giant LEYLAND MOTOR ' CORPORATION clearly and unmistakably illustrates the kind of trading climate in which UK industries are currently battling. During the first six months of the present trading year turnover improved by almost f54-m. to 1054-m. compared with the previous year. On the other hand, pre-tax profits declined to £7.5m. from £9.1m.
In an accompanying statement the directors point out that despite production and supply problems inhibiting output, turnover did in fact increase compared with the first six months of the previous year. But costs, too, continued to increase, and it has not yet been possible to offset these higher charges.
There is no doubt that the seamen's strike must be having an increasingly adverse effect on this magnificent exporter. And in taking a look at the prospects for the year's second half this factor must be given weighty attention: it could well be the key. The directors do just that when they state that dependent on the effects of this stoppage at sea they hope that the results for the full year "may not be far different" from those achieved in respect of the previous year.
Despite the (we hope, temporary) difficulties I remain firm in my belief that these are excellent shares to have in one's investment locker.
TURNER and NEWALL is another leading group which has just reported added pressure on margins. For the first half of the current year trading profits declined to £6.78m. from £7.80m. in the same period previously. The decrease is stated by the board to be caused mainly by pressure on margins at home stemming from higher wages and other costs. It is stated that generally overseas Subsidiaries reported satisfactory results.
So far as the outlook for the second half of the year is concerned a factor that could make a deal of difference is the recent acquisition of Engineering Components; profits of this new subsidiary for the nine months to end on September 30 next will be included in the results of the parent group. But the directors warn that the pressure on margins continues.
At their present price of 39s. 6d.-6d. below their 1956 peak— these £1 Ordinary shares yield 54-% based on the latest 10-1% dividend. The interim is being maintained at 3-1-%.
M artin Younger