Bird's Eye View
24th June 1966
Page 58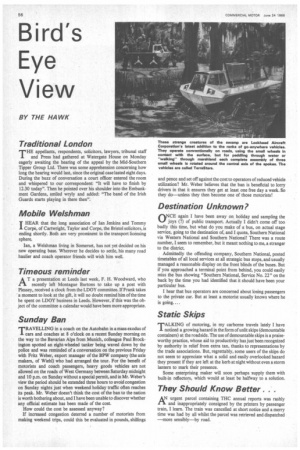 Page 58, 24th June 1966 —
Bird's Eye View
Close
BY THE HAWK
Traditional London
THE appellants, respondents, solicitors, lawyers, tribunal staff and Press had gathered at Watergate House on Monday eagerly awaiting the hearing of the appeal by the Mid-Southern Tipper Group Ltd. There was some apprehension concerning how long the hearing would last, since the original case lasted eight days. During the buzz of conversation a court officer entered the room and whispered to our correspondent: "It will have to finish by 12.30 today". Then he pointed over his shoulder into the Embankment Gardens, smiled wryly and added: "The band of the Irish Guards starts playing in there then".
Mobile Welshman
T HEAR that the long association of Ian Jenkins and Tommy Corpe, of Cartwright, Taylor and Corpe, the Bristol solicitors, is ending shortly. Both are very prominent in the transport licensing sphere.
Ian, a Welshman living in Somerset, has not yet decided on his new operating base. Wherever he decides to settle, his many road haulier and coach operator friends will wish him well.
Tim eous reminder
AT a presentation at Leeds last week, F. H. Woodward, who recently left Montague Burtons to take up a post with Plessey, received a clock from the LDOY committee. If Frank takes a moment to look at the gift, it will no doubt remind him of the time he spent on LDOY business in Leeds. However, if this was the object of the committee a calendar would have been more appropriate.
Sunday Ban
TRAVELLING in a coach on the Autobahn in a mass exodus of cars and coaches at 8 o'clock on a recent Sunday morning on the way to the Bavarian Alps from Munich, colleague Paul Brockington spotted an eight-wheeled tanker being waved down by the police and was reminded of a conversation on the previous Friday with Fritz Weber, export manager of the BPW company (the axle makers, of Wiehl) who had arranged the tour. For the benefit of motorists and coach passengers, heavy goods vehicles are not allowed on the roads of West Germany between Saturday midnight and 10 p.m. on Sunday without a special permit, and in Mr. Weber's view the period should be extended three hours to avoid congestion on Sunday nights just when weekend holiday traffic often reaches its peak. Mr. Weber doesn't think the cost of the ban to the nation is worth bothering about, and I have been unable to discover whether any official estimate has been made of the cost.
How could the cost be assessed anyway?
If increased congestion deterred a number of motorists from making weekend trips, could this be evaluated in pounds, shillings and pence and set off against the cost to operators of reduced vehicle utilization? Mr. Weber believes that the ban is beneficial to lorry drivers in that it ensures they get at least one free day a week. So they do—unless they then become one of those motorists!
Destination Unknown?
ONCE again I have been away on holiday and sampling the joys (?) of public transport. Actually I didn't come off too badly this time, but what do you make of a bus, on actual stage service, going to the destination of, and I quote, Southern National via Western National and Southern National! There was a route number, I seem to remember, but it meant nothing to me, a stranger to the district.
Admittedly the offending company, Southern National, posted timetables of all local services at all strategic bus stops, and usually managed a reasonable display on the front blinds of the buses. But if you approached a terminal point from behind, you could easily miss the bus showing "Southern National, Service No. 22" on the back by the time you had identified that it should have been your particular bus.
I hear that bus operators are concerned about losing passengers to the private car. But at least a motorist usually knows where he is going....
Static Skips
TALKING of motoring, in my carborne travels lately I have noticed a growing hazard in the form of unlit skips (demountable containers) at the roadside. The use of demountable skips is a praiseworthy practice, whose aid to productivity has just been recognized by authority in relief from extra tax, thanks to representations by the trade associations. But, regrettably, some users of the skips do not seem to appreciate what a solid and easily overlooked hazard they present if they are left at the kerb at night without even a storm lantern to mark their presence.
Some enterprising maker will soon perhaps supply them with built-in reflectors, which would at least be halfway to a solution.
They Should Know Better. . .
AN1 urgent parcel containing THC annual reports was rashly and inappropriately consigned by the printers by passenger train. I learn. The train was cancelled at short notice and a merry time was had by all whilst the parcel was retrieved and dispatched —more sensibly—by road.