NEW EQUIPMENT
24th June 1966
Page 55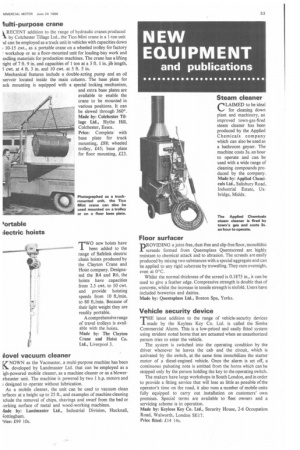 Page 55, 24th June 1966 —
NEW EQUIPMENT
Close
and publications
Steam cleaner
LATMED to be ideal for cleaning down plant and machinery, an improved town-gas--fired steam cleaner has been produced by the Applied Chemicals company which can also be used as a bathroom geyser. The machine costs 3s. an hour to operate and can be used with a wide range of cleaning compounds produced by the company. Made by: Applied Chemicals Ltd., Salisbury Road, Industrial Estate, Uxbridge, Middx.
Floor surfacer
HDROVIDING a joint-free, dust-free and slip-free floor, monolithic screeds formed from Quentsplass Quentscreed are highly resistant to chemical attack and to abrasion. The screeds are easily produced by mixing two substances with a special aggregate and can be applied to any rigid substrate by trowelling. They cure overnight, even at 0°C.
Whilst the normal thickness of the screed is 0.1875 in., it can be used to give a feather edge. Compressive strength is double that of concrete, whilst the increase in tensile strength is sixfold. Users have included breweries and dairies.
Made by: Quentsplass Ltd., Boston Spa, Yorks.
Vehicle security device
THE latest addition to the range of vehicle-security devices made by the Keyless Key Co. Ltd. is called the Simba Commercial Alarm. This is a low-priced and easily fitted system using strident noted horns that are actuated when an unauthorized person tries to enter the vehicle.
The system is switched into the operating condition by the driver whenever he leaves the cab and the circuit, which is activated by the switch, at the same time immobilizes the starter motor of a diesel-engined vehicle. Once the alarm is set off, a continuous pulsating note is emitted from the horns which can be stopped only by the person holding the key to the operating switch.
The makers have large workshops in South London, and in order to provide a fitting service that will lose as little as possible of the operator's time on the road, it also runs a number of mobile units fully equipped to carry out installation on customers' own premises. Special terms are available to fleet owners and a servicing scheme is in operation. Made by: Keyless Key Co. Ltd., Security House, 2-6 Occupation Road, Walworth, London SE17. Price fitted: £14 14s.