lulti-purpose crane
24th June 1966
Page 55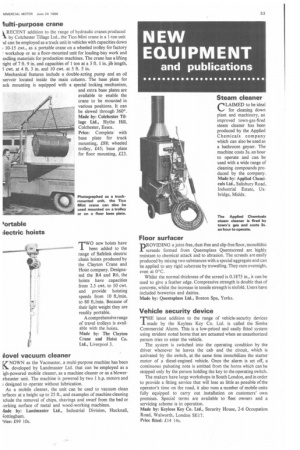 Page 55, 24th June 1966 —
lulti-purpose crane
Close
\ RECENT addition to the range of hydraulic cranes produced 1by Colchester Tillage Ltd., the Tico-Mini crane is a 1-ton unit id can be employed as a truck unit in vehicles with capacities down 10-15 cwt., as a portable crane on a wheeled trolley for factory workshop or as a floor-mounted unit for loading-bay work and mdling materials for production machines. The crane has a lifting ight of 7 ft. 9 in. and capacities of 1 ton at a 3 ft. 1 in. jib length, 5 cwt. at 4 ft. 3 in. and 10 cwt. at 5 ft. 5 in.
Mechanical features include a double-acting pump and an oil :servoir located inside the main column. The base plate for ack mounting is equipped with a special locking mechanism, and extra base plates are available to enable the crane to be mounted in various positions. It can be slewed through 3600. Made by: Colchester Tillage Ltd., Hythe Hill, Colchester, Essex.
Price: Complete with base plate for truck mounting, £88; wheeled trolley, £45; base plate for floor mounting, £23.
TWO new hoists have been added to the range of Safelink electric chain hoists produced by the Clayton Crane and Hoist company. Designated the R4 and R6, the hoists have capacities from 2.5 cwt. to 10 cwt. and provide hoisting speeds from 10 ft./min. to 80 ft./min. Because of their light weight they are readily portable.
A comprehensive range of travel trolleys is available with the hoists. Made by: The Clayton Crane and Hoist Co. Ltd., Liverpool 3.
lovel vacuum cleaner
KNOWN as the Vacmaster, a multi-purpose machine has been KNOWN
by Landmaster Ltd. that can be employed as a igh-powered mobile cleaner, as a machine cleaner or as a blowerxhauster unit. The machine is powered by two 1 h.p. motors and designed to operate without lubrication.
As a mobile cleaner, the unit can be used to vacuum clean urfaces at a height up to 25 ft., and examples of machine cleaning iclude the removal of chips, shavings and swarf from the bed or rorking surface of metal and wood-working machines.
4ade by: Landmaster Ltd., Industrial Division, Hucknall, ,lottingharn.
'rice: £99 10s.