Huge fines for tyre price fixing Two windscreen wipers r E
24th June 1966
Page 50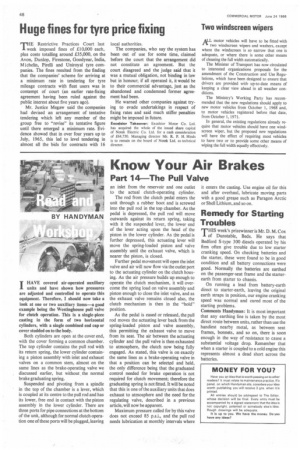 Page 50, 24th June 1966 —
Huge fines for tyre price fixing Two windscreen wipers r E
Close
Restrictive Practices Court last eek imposed fines of £10,000 each, plus costs totalling around £35,000, on the Avon, Dunlop, Firestone, Goodyear, India, Michelin, Pirelli and Uniroyal tyre companies. The fines resulted from the finding that the companies' scheme for arriving at a minimum rate in tendering for tyre mileage contracts with fleet users was in contempt of court (an earlier rate-fixing agreement having been ruled against the public interest about five years ago).
Mr. Justice Megaw said the companies had devised an arrangement of tentative tendering which left any member of the group free to "revise" its tentative figure until there emerged a minimum rate. Evidence showed that in over four years up to July, 1965, this led to level tendering in almost all the bids for contracts with 16 local authorities.
The companies, who say the system has been out of use for some time, claimed before the court that the arrangement did not constitute an agreement. But the court disagreed and the judge said that it was a mutual obligation, not binding in law but in honour; if all operated it, it would be to their commercial advantage, just as the abandoned and condemned former agreement had been.
He warned other companies against trying to evade undertakings in respect of fixing rates and said much stiffer penalties might be imposed in future.
Excelsior Takeover: Excelsior Motor Co. Ltd. has acquired the whole of the issued share capital of Notek Electric Co. Ltd. for a cash consideration of £64,750. Managing director Mr. R. P. H. Hinds is to remain on the hoard of Notek Ltd. as technical director.
ALL motor vehicles will have to be fitted with
two windscreen wipers and washers, except where the windscreen is so narrow that one is adequate, or where there is some other means of cleaning the full width automatically.
The Minister of Transport has now circulated to interested organizations proposals for the amendment of the Construction and Use Regulations, which have been designed to ensure that drivers are provided with up-to-date means of keeping a clear view ahead in all weather conditions.
The Ministry's Working Party has recommended that the new regulations should apply to new motor vehicles from October 1, 1968 and, to motor vehicles registered before that date, from October 1,1971.
In general, the existing regulations already require that motor vehicles should have one windscreen wiper, but the proposed new regulations will have the effect of requiring most vehicles to have two or to provide some other means of wiping the full width equally effectively.