More compact vehicles sought
24th June 1966
Page 49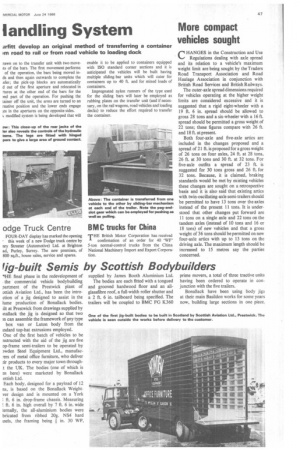 Page 49, 24th June 1966 —
More compact vehicles sought
Close
CHANGES in the Construction and Use Regulations dealing with axle spread and its relation to a vehicle's maximum weight limit are being sought by the Traders Road Transport Association and Road Haulage Association in conjunction with British Road Services and British Railways.
The outer-axle spread dimensions required for vehicles operating at the higher weight limits are considered excessive and it is suggested that a rigid eight-wheeler with a 19 ft. 6 in. spread should be allowed to gross 28 tons and a six-wheeler with a 16 ft. spread should be permitted a gross weight of 22 tons; these figures compare with 26 ft. and 18 ft. at present.
Both four-axle and five-axle artics are included in the changes proposed and a spread of 21 ft. is proposed for a gross weight of 26 tons on four axles, 24 ft. at 28 tons, 26 ft. at 30 tons and 30 ft. at 32 tons. For five-axle outfits a spread of 23 ft. is suggested for 30 tons gross and 26 ft. for 32 tons. Because, it is claimed, braking standards would be met by existing vehicles these changes are sought on a retrospective basis and it is also said that existing artics with twin-oscillating-axle semi-trailers should be permitted to have 13 tons over the axles instead of the present 11 tons. It is understood that other changes put forward are 11 tons on a single axle and 22 tons on the tandem axles (instead of 10 tons and 16 or 18 tons) of new vehicles and that a gross weight of 36 tons should be permitted on new four-axle artics with up to 13 tons on the driving axle. The maximum length should be increased to 15 metres say the parties concerned.