IRTE WANTS TOUGHER STANDARDS
24th June 1966
Page 48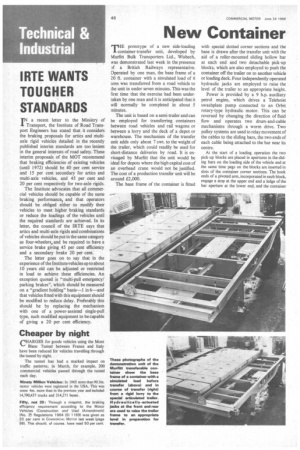 Page 48, 24th June 1966 —
IRTE WANTS TOUGHER STANDARDS
Close
'Ta recent letter to the Ministry of ransport, the -Institute of Road Transport Engineers has stated that it considers the braking proposals for artics and multiaxle rigid vehicles detailed in the recently published interim standards are too lenient in the general interests of road safety. These interim proposals of the MOT recommend that braking efficiencies of existing vehicles (until 1972) should be 40 per cent service and 15 per cent secondary for artics and multi-axle vehicles, and 45 per cent and 20 per cent respectively for two-axle rigids.
The Institute advocates that all commercial vehicles should be capable of the same braking performance, and that operators should be obliged either to modify their vehicles to meet higher braking standards or reduce the loadings of the vehicles until the required standards are achieved. In its letter, the council of the IRTE says that artics and multi-axle rigids and combinations of vehicles should be put in the same category as four-wheelers, and be required to have a service brake giving 45 per cent efficiency and a secondary brake 20 per cent.
The letter goes on to say that in the experience of the Institute vehicles up to about 10 years old can be adjusted or restricted in load to achieve these efficiencies. An exception quoted is "multi-pull emergency/ parking brakes", which should be measured on a "gradient holding" basis—I in 6—and that vehicles fitted with this equipment should be modified to reduce delay. Preferably this should be by replacing the mechanism with one of a power-assisted single-pull type, such modified equipment to be capable of giving a 20 per cent efficiency.
Cheaper by night
CHARGES for goods vehicles using the Mont Blanc Tunnel between France and Italy have been reduced for vehicles travelling through the tunnel by night.
The tunnel has had a marked impact on traffic patterns; in March, for example, 200 commercial vehicles passed through the tunnel each day.
Ninety Million Vehicles: In 1965 more than 90.3m. motor vehicles were registered in the USA. This was some 4m. more than in the previous year and included 14,790,437 trucks and 314,271 buses.
Fifty, not 20: Through a misprint, the braking efficiency requirement according to the Motor Vehicles (Construction and Use) (Amendment) (No. 21 Regulations 1964 (SI 1169) was given as 20 per cent irt COMMERCIAL MOTOR last week (page 981. This should, of course, have read 50 per cent.