What about it, Jim?
24th June 1966
Page 44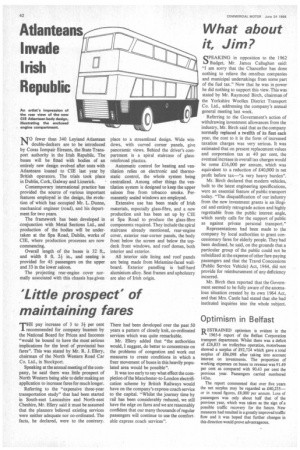 Page 44, 24th June 1966 —
What about it, Jim?
Close
SPEAKING in opposition to the 1962 Budget, Mr. James Callaghan said: am sorry that the Chancellor has done nothing to relieve the omnibus companies and municipal undertakings from some part of the fuel tax." Now that he was in power he did nothing to support this view. This was stated by Mr. Raymond Birch, chairman of the Yorkshire Woollen District Transport Co. Ltd., addressing the company's annual general meeting last week.
Referring to the Government's action of withdrawing investment allowances from the industry, Mr. Birch said that as the company normally replaced a twelfth of its fleet each year, the cost to it in the form of increased taxation charges was very serious. It was estimated that on present replacement values and corporation tax at 40 per cent, the eventual increase in overall tax charges would be some £16,000 per annum, which was equivalent to a reduction of £40,000 in net profit before tax----"a very heavy burden".
Mr. Birch declared that modern vehicles, built to the latest engineering specifications, were an essential feature of public transport today. "The disqualification of our industry from the new investment grants is an illogical and entirely retrograde action and highly regrettable from the public interest angle, which surely calls for the support of public as against private personal transport."
Representations had been made to the company by local authorities to grant concessionary fares for elderly people. They had been declined, he said, on the grounds that a particular group of the public could not be subsidized at the expense of other fare-paying passengers and that the Travel Concessions (Public Service Vehicle) Act, 1964, did not provide for reimbursement of any deficiency incurred.
Mr. Birch then reported that the Government seemed to be fully aware of the anomalous situation created by its own 1964 Act, and that Mrs. Castle had stated that she had instituted inquiries into the whole subject.
Optimism in Belfast
p ESTRAINED optimism is evident in the -LI' 1965-6 report of the Belfast Corporation transport department. Whilst there was a deficit of £26,833 on trolleybus operation, motorbuses showed a surplus of £92,724 which gave a total surplus of £86,098 after taking into account interest on investments. The proportion of working expenses on buses to revenue was 91.49 per cent as compared with 90.43 per cent the previous year. Passengers carried numbered 143m.
The report commented that over five years the net surplus may be regarded as £40,255— or in round figures. £8,000 per annum. Loss of passengers was only about half that of the previous year, which was taken as the sign of a possible traffic recovery for the future. New measures had resulted in a greatly improved traffic flow and it was hoped that further changes in this direction would prove advantageous.