REGULATIONS HERE AT LAST!
24th June 1966
Page 43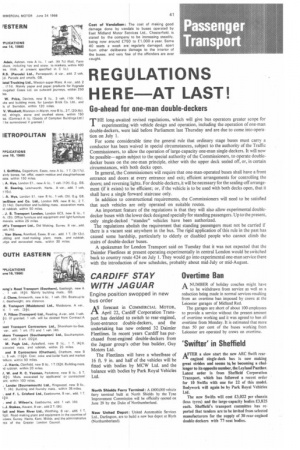 Page 43, 24th June 1966 —
REGULATIONS HERE AT LAST!
Close
Go-ahead for one-man double-deckers
THE long-awaited revised regulations, which will give bus operators greater scope for experimenting with vehicle design and operation, including the operation of one-man double-deckers, were laid before Parliament last Thursday and are due to come into operation on July 1.
For some considerable time the general rule that ordinary stage buses must carry a conductor has been waived in special circumstances, subject to the authority of the Traffic Commissioners, to allow the operation of large-capacity one-man single-deckers. It will now be possible—again subject to the special authority of the Commissioners, to operate doubledecker buses on the one-man principle, either with the upper deck sealed off, or, in certain circumstances, with both decks open.
In general, the Commissioners will require that one-man-operated buses shall have a front entrance and doors at every entrance and exit; efficient arrangements for controlling the doors; and reversing lights. For double-deckers, it will be necessary for the sealing-off arrangement (if it exists) to be efficient; or, if the vehicle is to be used with both decks open, that it shall have a single forward staircase only.
In addition to constructional requirements, the Commissioners will need to be satisfied that such vehicles are only operated on suitable routes.
An important feature of the regulations is that they will also allow experimental doubledecker buses with the lower deck designed specially for standing passengers. Up to the present, only single-decked "standee" vehicles have been authorized.
The regulations abolish the requirement that standing passengers must not be carried if there is a vacant seat anywhere in the bus. The rigid application of this rule in the past has caused some hardship, particularly to elderly or disabled people who cannot climb the stairs of double-decker buses.
A spokesman for London Transport said on Tuesday that it was not expected that the Daimler Fleetlines at present operating experimentally in central London would be switched back to country route 424 on July 1. They would go into experimental one-man service there with the introduction of new schedules, probably about mid-July or mid-August.