CARDIFF STAY WITH JAGUAR
24th June 1966
Page 43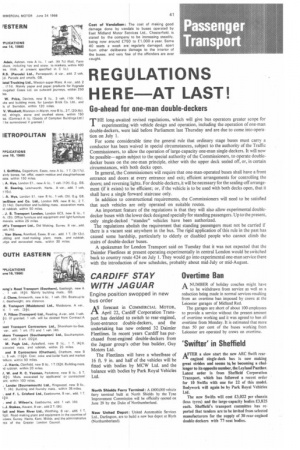 Page 43, 24th June 1966 —
CARDIFF STAY WITH JAGUAR
Close
Engine position swopped in new bus order AS forecast in COMMERCIAL MOTOR, tI April 22, Cardiff Corporation Transport has decided to switch to rear-engined, front-entrance double-deckers, and the undertaking has now ordered 32 Daimler Fleetlines. In recent years Cardiff has purchased front-engined double-deckers from the Jaguar group's other bus builder, Guy Motors Ltd.
The Fleetlines will have a wheelbase of 16 ft. 9 in. and half of the vehicles will be fitted with bodies by MCW Ltd. and the balance with bodies by Park Royal Vehicles Ltd.
North Shields Ferry Terminal: A 000,000 vehicle ferry terminal built at North Shields by the Tyne Improvement Commission will be officially opened on June 29 by the Duke of Northumberland.
New United Depot; United Automobile Services Ltd., Darlington, are to build a new bus depot at Blyth (Northumberland).
Overtime Ban
A NUMBER of holiday coaches might have to be withdrawn from service as well as a reduction being made in normal services resulting from an overtime ban imposed by crews at the Leicester garages of Midland Red.
The garages are short of about 100 employees to provide a service without the present amount of overtime working and it was agreed to ban all overtime from Monday. It is estimated that more than 50 per cent of the buses working from Leicester are operated by crews on overtime.
'Swifter' in Sheffield
AFTER a slow start the new AEC Swift rear' engined single-deck bus is now making great strides and seems tct be becoming a challenger to its opposite number, the Leyland Panther. Latest order is from Sheffield Corporation Transport, which has followed a recent order for 10 Swifts with one for 22 of this model. Bodywork will again be by Park Royal Vehicles Ltd.
The new Swifts will cost £3,022 per chassis (less tyres) and the large-capacity bodies £3,825 each. Sheffield's transport committee has reported that tenders are to be invited from selected manufacturers for the supply of 30 rear-engineri double-deckers with 77-seat bodies.