Figures queried in contract switch bid
24th June 1966
Page 41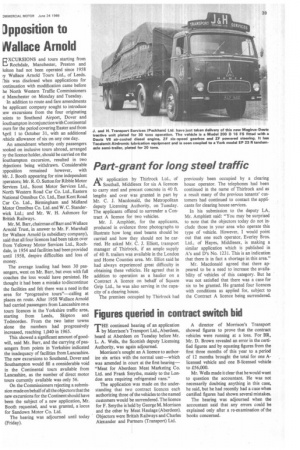 Page 41, 24th June 1966 —
Figures queried in contract switch bid
Close
THE continued hearing of an application by Morrison's Transport Ltd., Aberdeen, heard at Aberdeen on Tuesday before Mr. L. A. Wells, the Scottish deputy Licensing Authority, was again adjourned.
Morrison's sought an A licence to authorize six artics with the normal user—which was amended in court at the first hearing— "Meat for Aberdeen Meat Marketing Co. Ltd. and Frank Smythe, mainly to the London area requiring refrigerated vans."
The application was made on the understanding that two contract licences each authorizing three of the vehicles to the named customers would be surrendered. The licence for F. Smythe is held by George M. Morrison and the other by Meat Haulage (Aberdeen). Objectors were British Railways and Charles Alexander and Partners (Transport) Ltd. A director of Morrison's Transport showed figures to prove that the contract vehicles were running at a loss. For BR, Mr. D. Brown revealed an error in the certified figures and by equating figures from the first three months of this year to a period of 12 months brought the total for one Alicensed vehicle and one B-licensed vehicle to £56,000.
Mr. Wells made it clear that he would want to question the accountant. He was not necessarily doubting anything in this case, he said, but he had recently had a case when certified figures had shown several mistakes.
The hearing was adjourned when the accountant said that any errors could be explained only after a re-examination of the books concerned.