Short-term grants for express services
24th June 1966
Page 38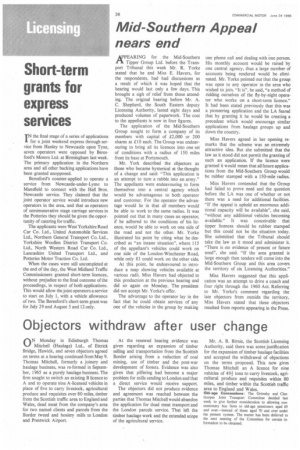 Page 38, 24th June 1966 —
Short-term grants for express services
Close
TN the final stage of a series of applications Ifor a joint weekend express through service from Hanley to Newcastle upon Tyne, seven operators were opposed by Beresford's Motors Ltd. at Birmingham last week. The primary application in the Northern area and all other backing applications have been granted unopposed.
Beresford's counter-applied to operate a service from Newcastle-under-Lyme to Mansfield to connect with the Hall Bros. Newcastle service. They claimed that the joint operator service would introduce new operators in the area, and that as operators of tmremunerative stage carriage services in the Potteries they should be given the opportunity of catering for traffic.
The applicants were West Yorkshire Road Car Co. Ltd., United Automobile Services Ltd., Northern General Transport Co. Ltd., Yorkshire Woollen District Transport Co. Ltd.. North Western Road Car Co. Ltd., Lancashire United Transport Ltd., and Potteries Motor Traction Co. Ltd.
When the cases were still uncompleted at the end of the day, the West Midland Traffic Commissioners granted short-term licences, without prejudice to the final outcome of the proceedings, in respect of both applications. This would allow the joint operators a service to start on July 1, with a vehicle allowance of two. The Beresford's short-term grant was for July 29 and August 5 and 12 only.