People
24th June 1966
Page 36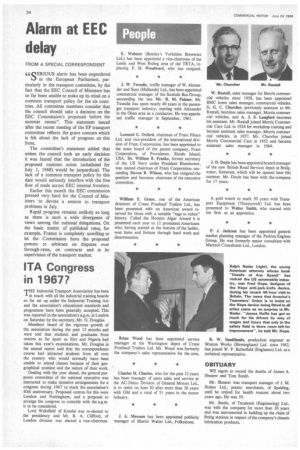 Page 36, 24th June 1966 —
People
Close
E. Webster (Bentley's Yorkshire Breweries Ltd.) has been appointed a vice-chairman of the Leeds and West Riding area of the TRTA, replacing F. H. Woodward. who has resigned.
J. W. Tweedie, traffic manager of W. Alexander and Sons (Midlands) Ltd., has been appointed commercial manager of the Scottish Bus Group, succeeding the late Mr. R. M. Palmer. Mr. Tweedie has spent nearly 40 years in the passenger transport industry, starting with Alexander in the Oban area as a conductor. He was appointed traffic manager in September, 1961.
Leonard G. Oxford, chairman of Fram Filters Ltd. and vice-president of the international division of Fram Corporation, has been appointed to the main board of the parent company, Fram Corporation, of Providence, Rhode Island, USA. Dr. William B. Franke, former secretary of the US Navy under President Eisenhower, was named chairman of Fram Corporation, succeeding Steven B. Wilson, who has resigned the position and becomes chairman of the executive committee.
William E. Grace, one of the American directors of Crane Fruehauf Trailers Ltd., has been presented with an American award reserved for those with a suitable "rags to riches" history. Called the Horatio Algar Award it is presented each year to 12 prominent Americans who, having started at the bottom of the ladder, won fame and fortune through hard work and determination.
Brian Wood has been appointed service manager at the Warrington depot of Crane Fruehauf Trailers Ltd. Mr. Wood was formerly the company's sales representative for the area.
Charles H. Charles, who for the past 12 years has been manager of parts sales and service at the AC-Delco Division of General Motors Ltd., is to retire on June 30 after more than 38 years with GM and a total of 51 years in the motor industry.
J. A. Messam has been appointed publicity manager of Martin Walter Ltd., Folkestone.
W. Ras-tall, sales manager for Morris commercial vehicles since 1958. has been appointed BMC home sales manager, commercial vehicles. G. G. C. Churcher, previously assistant to Mr. Rasta, becomes sales manager. Morris commercial vehicles, and A. J. S. Langford becomes his assistant. Mr. Rastall joined Morris Commercial Cars Ltd. in 1924 for workshop training and became assistant sales manager, Morris commercial vehicles, in 1957. Mr. Churcher joined Morris Commercial Cars in 1952 and became assistant sales manager in 1964.
J. D. Doyle has been appointed branch manager of the new British Road Services depot at Bridgwater, Somerset, which will be opened later this summer. Mr. Doyle has been with the company for 17 years.
A gold watch to mark 50 years with Transport Equipment (Thornycroft) Ltd. has been presented to Wafter Smith, who started with the firm as an apprentice.
P. J. Jackson has been appointed general market planning manager of the Perkins Engines Group. He was formerly senior consultant with Martech Consultants Ltd., London.
R. W. Sandilands, production engineer at Weston Works (Birmingham) Ltd. since 1962, has joined W. P. Butterfield (Engineers) Ltd. as a technical representative.
OBITUARY
WE regret to record the deaths of James A. Shearer and Tom Smith.
Mr. Shearer was transport manager of J. M. Stokes Ltd., potato merchants. of Spalding, until he retired for health reasons about two years ago. He was 59.
Mr. Smith, of Tecalemit (Engineering) Ltd., was with the company for more than 30 years and was instrumental in building up the chain of fitting stations in respect of the company's chassis lubrication products.
Tags
People
:
R. M. Palmer
,
Charles H. Charles
,
J. W. Tweedie
,
J. D. Doyle
,
Eisenhower
,
Steven B. Wilson
,
William E. Grace
,
C. Churcher
,
James A. Shearer
,
Tom Smith
,
Wafter Smith
,
R. W. Sandilands
,
Brian Wood
,
P. J. Jackson
,
Rastall
,
J. A. Messam
,
Leonard G. Oxford
,
William B. Franke