Alarm at EEC delay
24th June 1966
Page 36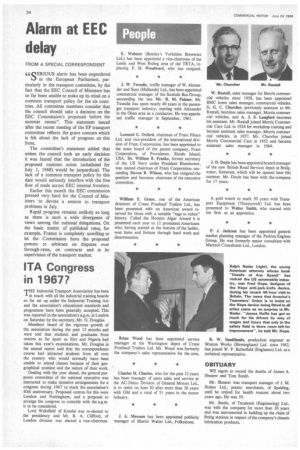 Page 36, 24th June 1966 —
Alarm at EEC delay
Close
FROM A SPECIAL CORRESPONDENT
ERIOUS alarm has been engendered L.3 in the European Parliament, particularly in the transport committee, by the fact that the EEC Council of Ministers has so far been unable to make up its mind on a common transport policy for the six countries. All committee members consider that the council should take a decision on the EEC Commission's proposals before the summer recess". This statement issued after the recent meeting of the EP transport committee reflects the grave concern which is felt about the lack of progress on this front.
The committee's statement added that unless the council took an early decision it was feared that the introduction of the proposed customs union (scheduled for July 1, 1968) would be jeopardized. The lack of a common transport policy by this date would seriously interfere with the free flow of trade across EEC internal frontiers.
Earlier this month the EEC commission pressed very hard for the Council of Ministers to devote a session to transport problems in July.
Rapid progress remains unlikely so long as there is such a wide divergence of views among the national delegations. On the basic matter of published rates, for example, France is completely unwilling to let the Commission have the proposed powers to arbitrate on disputes over through-rates, on contracts and in its supervision of the transport market.