XEMPT SLOW PHICLES FROM EADLIGHT EGULATIONS'
24th June 1966
Page 35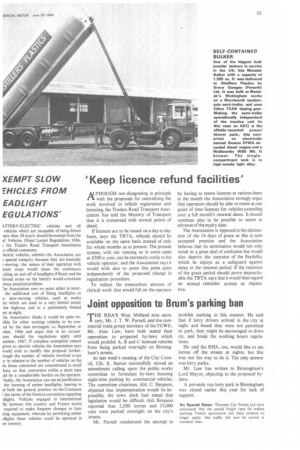 Page 35, 24th June 1966 —
XEMPT SLOW PHICLES FROM EADLIGHT EGULATIONS'
Close
VITERY-ELECTRIC vehicles and all vehicles which are incapable of being driven tore than 20 m.p.h. should be exempt from the id Vehicles (Head Lamp) Regulations 1966, ; the Traders Road Transport Association :s official comments.
lectric vehicles, submits the Association, are special category because they are basically /-moving; the nature of their operation with stant stops would mean the continuous .ching on and off of headlights if fitted; and the itional strain on the battery would constitute rious practical problem.
lie Association sees no point either in incurthe additional cost of fitting headlights to :t* slow-moving vehicles, such as works ,ks which are used to a very limited extent the highway and to a particularly limited nit at night.
he Association thinks it would be quite imsible for other existing vehicles to be coned by the date envisaged, i.e. September or ober, 1966 and urges that in no eircumices should the regulations apply until tember, 1967. If complete exemption cannot given to electric vehicles the Association says would wish to modify this proposal further. hough the number of vehicles involved is not ;e in relation to the number of vehicles on the ds those concerned are concentrated in small kets, so that conversion within a short time ild be a considerable burden on the operator. .7inally, the Association can see no justification the banning of amber headlights, bearing in id both the general practice on the Continent the terms of the Geneva convention regarding dlights. Vehicles engaged in international Ee between this country and France would required to make frequent changes in their iting equipment, whereas by permitting amber .dlights these vehicles could be operated in ter country.