'Keep licence refund facilities'
24th June 1966
Page 35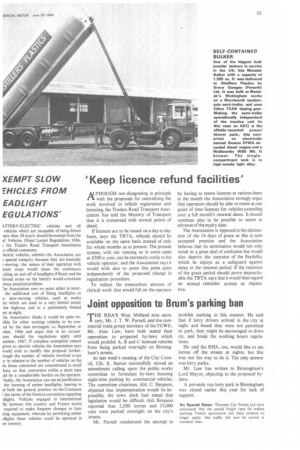 Page 35, 24th June 1966 —
'Keep licence refund facilities'
Close
ALTHOUGH not disagreeing in principle PX with the proposals for centralizing the work involved in vehicle registration and licensing, the Traders Road Transport Association has told the Ministry of Transport that it is concerned with several points of detail.
If licences are to be issued on a day to day basis, says the TRTA, refunds should be available on the same basis instead of only for whole months as at present. The present system, with tax running as in some cases at £300 a year, can be extremely costly to the vehicle operator, and the Association says it would wish also to press this point quite independently of the proposed change in registration procedure.
To reduce the tremendous amount of clerical work that would fall on the operator by having to renew licences at various dates in the month the Association strongly urges that operators should be able to renew at one point of time licences for vehicles extending over a full month's renewal dates. It should continue also to be possible to renew in advance of the expiry date.
The Association is opposed to the elimination of the 14 days of grace as this is now accepted practice and the Association believes that its termination would not only result in a great deal of confusion but would also deprive the operator of the flexibility which he enjoys as a safeguard against delay in the renewal period. If the retention of the grace period should prove impracticable the TRTA says that it would then regard an annual reminder system as impera tive.