Joint opposition to Brum's parking ban
24th June 1966
Page 35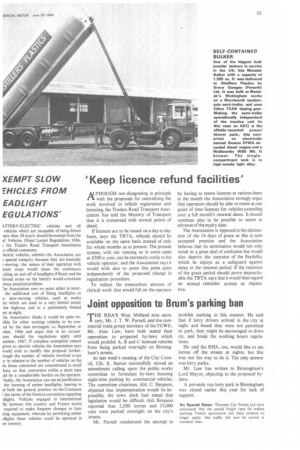 Page 35, 24th June 1966 —
Joint opposition to Brum's parking ban
Close
THE RHA'S West Midland area secretary, Mr. J. T. W. Parnell, and the commercial trade group secretary of the TGWU, Mr. Alan Law, have both stated their opposition to projected by-laws which would prohibit A, B and C-licensed vehicles from being parked overnight on Birmingham's streets.
At last week's meeting of the City Council, Cllr. K. Barton successfully moved an amendment calling upon the public works committee to formulate by-laws banning night-time parking by commercial vehicles. The committee chairman, Ald. C. Simpson, objected that implementation would be impossible; the town clerk had stated that legislation would be difficult. Aid. Simpson reported that 2,500 lorries and 53,000 cars were parked overnight on the city's streets.
Mr. Parnell condemned the attempt to prohibit parking in this manner. He said that if lorry drivers arrived in the city at night and found they were not permitted to park, they might be encouraged to drive on, and break the working hours regulations.
He said the RHA, too, would like to see lorries off the streets at nights, but this was not the way to do it. The only answer was lorry parks.
Mr. Law has written to Birmingham's Lord Mayor, objecting to the proposed bylaws.
A privately run lorry park in Birmingham was closed earlier this year for lack of support.
No Special Rates: Thoresen Car Ferries Ltd. have announced that the special freight rates for trailers carrying French agricultural and dairy produce no longer apply: this traffic will now be carried at standard rates.