Withdraw, suggests Mrs. Castle
24th June 1966
Page 34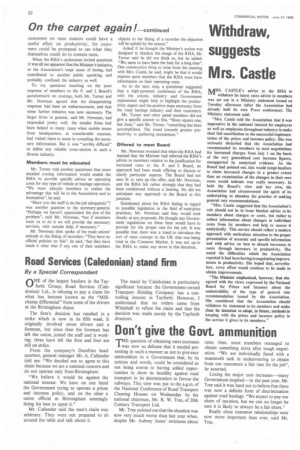 Page 34, 24th June 1966 —
Withdraw, suggests Mrs. Castle
Close
MRS. CASTLE's advice to the RHA to
withdraw its latest rates advice to members was set out in a Ministry statement issued on Tuesday afternoon (after the Association had already held its own Press conference). The Ministry statement said:
"Mrs. Castle told the Association that it was Imperative in the national interest for employers as well as employees throughout industry to make their full contribution to the successful implementation of the prices and incomes policy. She was seriously disturbed that the Association had recommended its members to start negotiations for increased charges from July 1 on the basis of the very generalized cost increase figures, unsupported by analytical evidence. As the Board had pointed out, this would tempt hauliers to claim increased charges to a greater extent than an examination of the changes in their own costs would indicate was really necessary. In both the Board's view and her own, the Association had circumvented the spirit of its undertaking to abandon the practice of making general rate recommendations.
"Mrs. Castle suggested that the Association's role should not be to issue blanket advice to its members about charges or costs, but rather to collect information about changes in individual costs from its members and help to assess it analytically. This service should reflect a modern approach with meticulous attention to the proper presentation of accurate and specific information and with advice on how to absorb increases in costs through increases in productivity. She noted the difficulties which the Association reported it had been having in negotiating improvements in productivity. She hoped that, nevertheless, every effort would continue to be made to obtain improvements.
"The Minister emphasized, however, that she agreed with the views expressed by the National Board for Prices and Incomes about the undesirability of the type of general rate recommendation issued by the Association. She considered that the Association should withdraw its statement to its members and make clear its intention to adopt, in future, methods In keeping with the prices and incomes policy in the service it gives to its members."