Don't give the Govt. ammunition
24th June 1966
Page 34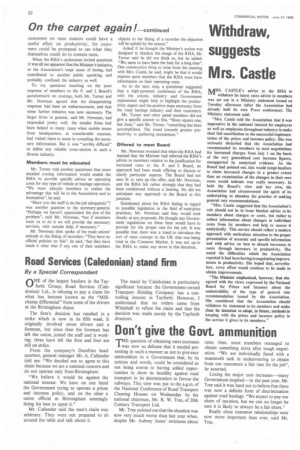 Page 34, 24th June 1966 —
Don't give the Govt. ammunition
Close
E question of obtaining rates increases
was now so delicate that it needed presenting in such a manner as not to give easy ammunition to a Government that, by its actions and words, could be considered as not being averse to having added opportunities to show its hostility against road transport in its determination to favour the railways. This view was put to the a.g.m. of the National Conference of Road Transport Clearing Houses on Wednesday by the national chairman, Mr. R. W. Tree, of 20th Century Transport Ltd.
Mr. Tree pointed out that the situation was now very much worse than last year when, despite Mr. Aubrey Jones' strictures about rates rises, most members managed to obtain something extra after tough negotiation. "We are individually faced with a mammoth task in endeavouring to obtain from our customers a fair rate for the job", he asserted.
Listing the major cost increases—many Government-inspired—in the past year, Mr. Tree said it was hard not to believe that there was now a definite form of discrimination against road haulage. "We expect to pay our share of taxation, but we can no longer be sure it is likely to always be a fair share."
Really close customer relationships were now more important than ever, said Mr. Tree.