elective intimidation?
24th June 1966
Page 31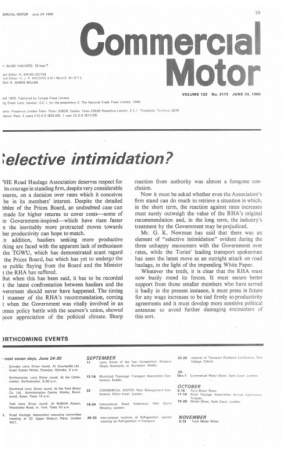 Page 31, 24th June 1966 —
elective intimidation?
Close
'HE Road Haulage Association deserves respect for its courage in standing firm, despite very considerable ssures, on a decision over rates which it conceives be in its members' interest Despite the detailed bbles of the Prices Board, an undoubted case can made for higher returns to cover costs—some of m Government-inspired—which have risen faster n the inevitably more protracted moves towards her productivity can hope to match.
n addition, hauliers seeking more productive rking are faced with the apparent lack of enthusiasm the TGWU, which has demonstrated scant regard the Prices Board, but which has yet to undergo the le public flaying from the Board and the Minister t the RHA has suffered.
But when this has been said, it has to be recorded t the latest confrontation between hauliers and the vernment should never have happened. The timing manner of the RHA's recommendation, coming t when the Government was vitally involved in an ames policy battle with the seamen's union, showed poor appreciation of the political climate. Sharp reaction from authority was almost a foregone conclusion.
Now it must be asked whether even the Association's firm stand can do much to retrieve a situation in which, in the short term, the reaction against rates increases must surely outweigh the value of the RHA's original recommendation and, in the long term, the industry's treatment by the Government may be prejudiced.
Mr. G. K. Newman has said that there was an element of "selective intimidation" evident during the three unhappy encounters with the Government over rates, while the Tories' leading transport spokesman has seen the latest move as an outright attack on road haulage, in the light of the impending White Paper.
Whatever the truth, it is clear that the RHA must now busily mend its fences. It must secure better support from those smaller members who have served it badly in the present instance, it must press in future for any wage increases to be tied firmly to productivity agreements and it must develop more sensitive political antennae to avoid further damaging encounters of this sort.