GAS TRAILER REGULATIONS.
24th January 1918
Page 9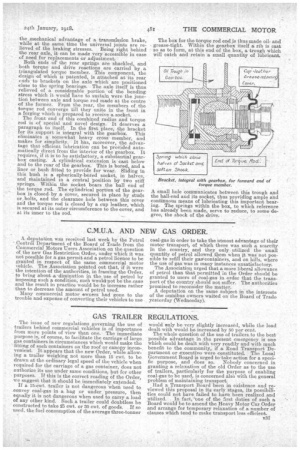 Page 9, 24th January 1918 —
GAS TRAILER REGULATIONS.
Close
The issue of new regulations governing the use of trailers behind commercial vehicles is of importance from more points of view than one. The immediate purpose is, of course, to facilitate the carriage of large gas containers in circumstances which would make the fitting of such containers on the roof or canopy incon-. venient. It appears that the new Order, while allowing a trailer weighing not more than 15 cwt. to be drawn at the ordinary legal speed of the vehicle when required for the carriage of a gas container, does not authorize its use under same conditions, but for other purposes. If this is the correct reading of the Order, we suggest that it should be immediately extended. If a 15-cwt. trailer is not dangerous when used to convey coal-gas in a bag or under pressure, then equally it is not dangerous when used to carry a load of any other kind. Such a trailer could doubtless be constructed to take cwt. or 30 cwt. of goods. If so used, the fuel consumption of the average three-tonner would only be very slightly increased, while the load dealt with would be increased by 50 per cent.
The Nvhole question of the use of trailers to the best possible advantage in the present emergency is one which could be dealt with very readily and with much benefit to the community, if a Road Transport Department or executive were constituted. The Local Government Board is urged to take action for a specific purpose, and does so. Nobody concerned in granting a relaxation of the old Order as to the use of trailers, particularly for the purpose of enabling coal-gas-to be used, is concerned also with the general problem of maintaining transport.
Had a Transport Board been in existence and reviewed this proposal in its early stages, its possibilities could not have failed to have been realized and utilized. In fact, one of the first duties of such a Board would be to amend the Heavy Motor Car Order and arrange for temporary relaxation of a number of clauses which tend to make transport less efficient.