Read the fine print
24th February 1994
Page 44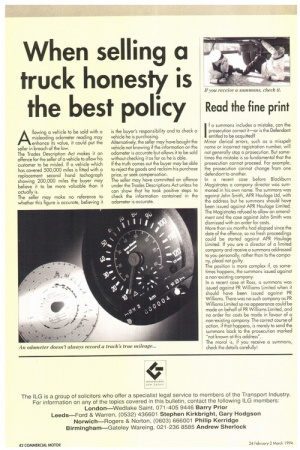 Page 44, 24th February 1994 —
Read the fine print
Close
If a summons includes a mistake, can the prosecution correct it—or is the Defendant entitled to be acquitted? Minor clerical errors, such as a misspelt name or incorrect registration number, will not generally stop a prosecution. But sometimes the mistake is so fundamental that the prosecution cannot proceed. For example, the prosecution cannot change from one defendant to another.
In a recent case before Blackburn Magistrates a company director was summoned in his own name. The summons was against John Smith, APR Haulage Ltd, with the address but he summons should have been issued against APR Haulage Limited. The Magistrates refused to allow an amendment and the case against John Smith was dismissed with an order for costs.
More than six months had elapsed since the date of the offence, so no Fresh proceedings could be started against APR Haulage Limited. IF you are a director of a limited company and receive a summons addressed to you personally, rather than to the company, plead not guilty. The position is more complex if, as sometimes happens, the summons issued against a non-existing company.
In a recent case at Ross, a summons was issued against PR Williams Limited when it should have been issued against PR Williams. There was no such company as PR Williams Limited so no appearance could be made on behalf of PR Williams Limited, and no order for costs be made in favour of a non-existing company. The correct course of action, if that happens, is merely to send the summons back to the prosecution marked "not known at this address".
The moral is, if you receive a summons, check the details carefully!