Executive agency plan threat to licence law
24th February 1994
Page 4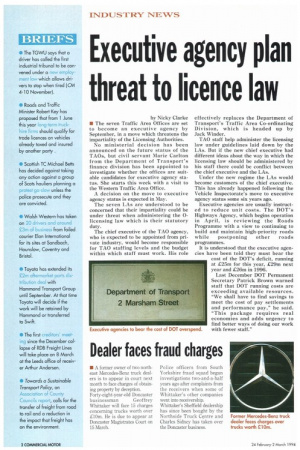 Page 4, 24th February 1994 —
Executive agency plan threat to licence law
Close
by Nicky Clarke • The seven Traffic Area Offices are set to become an executive agency by September, in a move which threatens the impartiality of the Licensing Authorities.
No ministerial decision has been announced on the future status of the TA0s, but civil servant Marie Carlton from the Department of Transport's finance division has been appointed to investigate whether the offices are suitable candidates for executive agency status. She starts this week with a visit to the Western Traffic Area Office.
A decision on the move to executive agency status is expected in May.
The seven LAs are understood to be concerned that their impartiality could be under threat when administering the 0licensing law which is their statutory duty.
The chief executive of the TAO agency, who is expected to be appointed from private industry, would become responsible for TAO staffing levels and the budget within which staff must work. His role effectively replaces the Department of Transport's Traffic Area Co-ordinating Division, which is headed up by Jack Winder.
TAO staff help administer the licensing law under guidelines laid down by the LAs. But if the new chief executive had different ideas about the way in which the licensing law should be administered by his staff there could be conflict between the chief executive and the LAs.
Under the new regime the LAs would become customers of the chief executive. This has already happened following the Vehicle Inspectorate's move to executive agency status some six years ago.
Executive agencies are usually instructed to reduce unit costs. The DOT's Highways Agency, which begins operation in April, is reviewing the Roads Programme with a view to continuing to build and maintain high-priority roads while postponing other roads programmes.
It is understood that the executive agencies have been told they must bear the cost of the DOT's deficit, running at 425m for this year, £29m next year and 426m in 1996.
Last December DOT Permanent Secretary Patrick Brown warned staff that DOT running costs are exceeding available resources. "We shall have to find savings to meet the cost of pay settlements and performance pay," he said. "This package requires real economies and adds urgency to find better ways of doing our work with fewer staff."