BRIEFS
24th February 1994
Page 4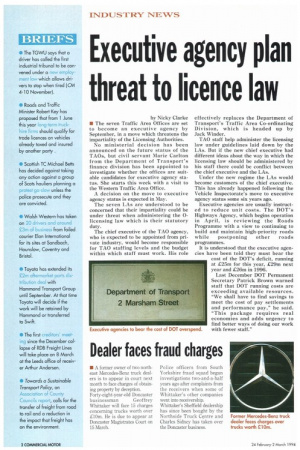 Page 4, 24th February 1994 —
BRIEFS
Close
• The TGWU says that a driver has called the first industrial tribunal to be convened under a merit law which allows drivers to stop when tired (CM 4-10 November'.
Roads and Traffic Minister Robert Key has proposed that from 1 June
this year ,oi ...21-rn truckhire ..ms should qualify for trade licences on vehicles already taxed and insured by another party.
Scottish IC Michael Betts has decided against taking any action against a group of Scots hauliers planning a protest go.slov unless the police prosecute and they are convicted.
• Walsh Western has taken on 20 drivers arta around £3m of business from failed courier Elan International for its sites at Sandbach, Hounslow, Coventry and Bristol.
• Toyota has extended its E2m aftermarket parts distribution deal with Hammond Transport Group until September. At that time Toyota will decide if the work will be retained by Hammond or transferred to Swift.
• The first rre.di+ors ,reetin,. since the December collapse of RDB Freight Lines will take place on 8 March at the Leeds office of receiver Arthur Andersen.
Towards a Sustainable Transport Policy, an ..-1/4.,s0(10,10t: 0. inty
Cro in -; rnr,i , calls for the transfer of freight from road to rail and a reduction in the impact that Freight has on the environment.