TO UGH R H EAD
24th February 1994
Page 26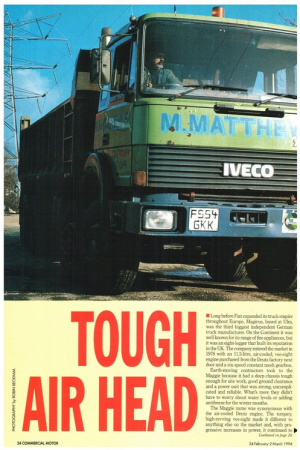 Page 28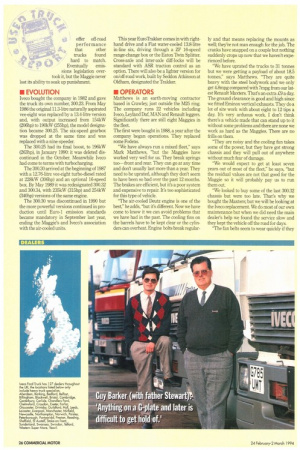 Page 29
Page 30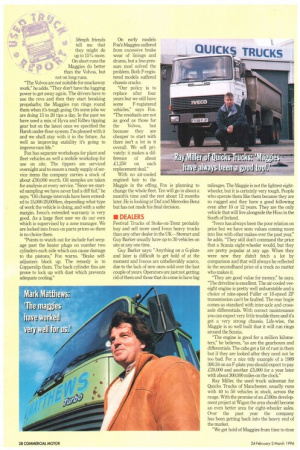 Page 31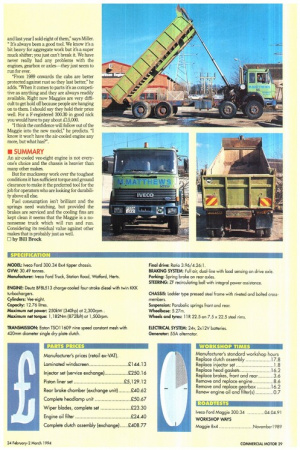 Page 26, 24th February 1994 —
TO UGH R H EAD
Close
• Long before Fiat expanded its truck empire throughout Europe, Magirus, based at Ulm, was the third biggest independent German truck manufacturer. On the Continent it was well known for its range of fire appliances, but it was an eight-legger that built its reputation in the UK. The company entered the market in 1978 with an 113-litre, air-cooled, vee-eight engine purchased from the Deutz factory next door and a six-speed constant mesh gearbox.
Earth-moving contractors took to the Maggie because it had a deep chassis tough enough for site work, good ground clearance and a power unit that was strong, uncomplicated and reliable. What's more they didn't have to worry about water levels or adding antifreeze for the winter months.
The Maggie name was synonymous with the air-cooled Deutz engine. The torquey, high-revving vee-eight made it different to anything else on the market and, with progressive increases in power, it continued to offer off-road performance that other trucks found hard to match. Eventually emissions legislation overtook it, but the Maggie never lost its ability to soak up punishment.
• EVOLUTION
Iveco bought the company in 1982 and gave the truck its own number, 300.23. From May 1986 the original 11.3-litre naturally aspirated vee-eight was replaced by a 13.4-litre version and, with output increased from 154kW (206hp) to 190kW (255hp), the model designation became 300.25. The six-speed gearbox was dropped at the same time and was replaced with a nine-speeder.
The 300.25 had its final boost, to 196kW (263hp), in January 1990: it was deleted discontinued in the October. Meanwhile Iveco had come to terms with turbocharging.
The 300.30 arrived at the beginning of 1987 with a 12.76-litre vee-eight turbo-diesel rated at 228kW (306hp) and an optional 16-speed box. By May 1989 it was redesignated 300.32 and 300.34, with 235kW (3151m) and 254kW (340hp) versions of the same engine.
The 300.30 was discontinued in 1990 but the more powerful versions continued in production until Euro-1 emission standards became mandatory in September last year, ending the Maggie's and Iveco's association with the air-cooled units.
This year EuroTrakker comes in with righthand drive and a Fiat water-cooled 13.8-litre in-line six, driving through a a 16-speed range-change box or the Eaton Twin Splitter. Cross-axle and inter-axle diff-locks will be standard with ASR traction control as an option. There will also be a lighter version for on/off-road work, built by Seddon Atkinson at Oldham, designated the Trakker.
• OPERATORS
Matthews is an earth-moving contractor based in Crawley, just outside the M25 ring. The company runs 22 vehicles including Iveco, Leyland Daf, MAN and Renault leggers. Significantly there are still eight Maggies in the fleet.
The first were bought in 1988, a year after the company began operations. They replaced some Fodens.
"We have always run a mixed fleet," says Mark Matthews, "but the Maggies have worked very well for us. They break springs too—front and rear. They can go at any time and don't usually last more than a year. They need to be uprated, although they don't seem to have been so bad over the past 12 months. The brakes are efficient, but it's a poor system and expensive to repair. It's too sophisticated for this type of vehicle.
"The air-cooled Deutz engine is one of the best," he adds, "but it's different. Now we have come to know it we can avoid problems that we have had in the past. The cooling fins on the barrels have to be kept clear or the cylinders can overheat. Engine bolts break regular
ly and that means replacing the mounts as well; they're not man enough for the job. The cranks have snapped on a couple but nothing suddenly crops up now that we haven't experienced before.
"We have uprated the trucks to 31 tonnes but we were getting a payload of about 18.5 tonnes," says Matthews. "They are quite heavy with the steel bodywork and we only get 4,8mpg compared with 7mpg from our latest Renault Maxters. That's an extra £9 a day. The ground clearance is good and high since we fitted Eminox vertical exhausts. They do a lot of site work with about eight to 12 tips a day. It's very arduous work. I don't think there's a vehicle made that can stand up to it without some problems and there are none we work as hard as the Maggies. There are no frills on them.
"They are noisy and the cooling fan takes some of the power, but they have got strong chassis and they will pull out of anywhere without much fear of damage.
"We would expect to get at least seven years out of most of the fleet," he says, "but the residual values are not that good for the Maggie so it will probably pay us to run them out.
"We looked to buy some of the last 300.32 chassis but were too late. That's why we bought the Maxters; but we will be looking at the Iveco replacement. We do most of our own maintenance but when we did need the main dealer's help we found the service slow and they kept the vehicle off the road for days.
"The fan belts seem to wear quickly if they get Wet and they all need to be replaced at the same time. We use a high-grade oil which is replaced every 20,000km along with the filters. The Maggies do quite well on tyres but we don't expect to get full life out of them. They last about a year on the fronts and about six months on the rear."
Mackintosh Plant Hire is based at Dtmecht, near Aberdeen. Garry Mackintosh says the company has been operating since 1976 and has a fleet of 33 eight-wheelers and two sixwheel tippers with a few Volvos but mainly Scania 93 280s, and five Maggies which are now about four years old.
"At the start we bought the Maggies because they were the only vehicles that could stand up to the work," he explains. "They're very robust and very well priced in the market. In later years we have found that they are quite heavy on fuel compared with the Scanias—that's why we're heavily into Scanias now but it might change after we test the water with the new EuroTech at the end of March. With the Scania 93 models we are getting up to 8.5mpg and the Iveco 300.34 is giving about 7mpg. Fuel costs offset the difference in purchase price in the first year."
The Maggies operate within a two-hour radius and cover about 35,000 miles a year. "They are very good on site, in soft ground," says Mackintosh. "They get in and out of places that we wouldn't even try with the Scanias. The average time we keep them is about six years, but the secondhand value of Ivecos at the moment is poor. They cost less than the Scanias to buy so you get less when it comes time to sell them.
"Up here in Aberdeen the Ivecos have a very good backup," he adds. "Our local dealer, Harper Trucks, is one of the best supplier of parts. If it's not in stock then it's there the next morning. Parts prices have come more into line with the rest of the manufacturers and they are pretty good now. "Our workshops carry out oil changes at about 20,000 miles. We don't use original manufacturer's air filters. We have autolube fitted to all of the trucks we get now "It's about £600 to do," he says, "but at least you know all the points are getting lubricated. We bought a 300.34 last February with a twoyear warranty on the springs because we were concerned that they were soft. Three have broken in that period: one on the rear, one on the front and one on the second axle. We're trying to get an extended warranty on them now. One thing about Iveco is that they don't walk away from a problem; they do listen to you. On our kind of work the brakes are not too bad, no worse than a Sarnia. The ninespeed Fuller box is a good strong box and we have had no trouble with it up to now. The aircooled engines are not a problem, that's why my father bought the first one 10 years ago. The secret is to keep one driver to one truck and he looks after it as though it were his own.
"We make our own steel bodies," says Mackintosh. "They last as long as we keep the vehicles. And we buy our tipping gear direct from Drum Engineering. Working on road we get about 19.5 tonnes payload. For local work there is not much advantage in going to the new weight limit; we plate them at 31 tonnes and pay the same VED as before."
Asked what he liked best about the Maggies, Mackintosh remarked: "They come home every night."
Over the past 60 years Fox Plant of Owmby, just north of Lincoln, has developed into one of the largest privately owned companies in its field. Its 130-strong workforce is currently headed by Stephen Fox, the grandson of the founder. In addition to 140 pieces of plant Fox operate a fleet of road-going vehicles including 20 eight-wheelers.
"We had some experience of the Deutz engine in plant equipment when we started our tipper fleet with a T-registered Maggie," says Fox. "It was a choice between MAN and Magirus but the MAN had a lot of greasing points and the Maggies used sealed-for-life joints. They were only being used on site then so we issued the drivers with grease guns to keep the propshaft UJS lubricated. They were slightly cheaper but that was not the reason for buying them. They were doing rough work but not a big mileage." The current 300.30, 300.32 and 30034 models still do a lot of site work and by the end of this month all will have been uprated to 31 tonnes with a payload of about 19 tonnes. About 50% of the tipper fleet is equipped with sleeper cabs for use when the drivers are working away from home. "They don't do that well on fuel—only about 7.5mpg and that's running laden about 60% of the time," says Fox. "But if limited to 58mph friends tell me that they might do up to 15% more. On short runs the Maggies do better than the Volvos, but not on long runs.
"The Volvos are not suitable for muckaway work," he adds. "They don't have the lugging power to get away again. The drivers have to use the revs and then they start breaking propshafts; the Maggies run rings round them when it's tough going. On some jobs we are doing 15 to 20 tips a day. In the past we have used a mix of Hyva and Edbro tipping gear but on the latest ones we specified the Harsh under-floor system. I'm pleased with it and we shall stay with it in the future. As well as improving stability it's going to improve ram life."
Fox has separate workshops for plant and fleet vehicles as well a mobile workshop for use on site. The tippers are serviced overnight and to ensure a ready supply of service items the company carries a stock of about £50,000 worth. Oil samples are taken for analysis at every service. "Since we started sampling we have never had a diff fail," he says. "Oil change intervals have been extended to 15,000-20,000km, depending what type of work the vehicle is doing, and with a safer margin. Iveco's extended warranty is very good. As a large fleet user we do our own which is supervised by a zone manager. We are locked into Iveco on parts prices so there is no choice there.
"Points to watch out for include fuel seepage past the heater plugs on number two cylinders each side which can cause damage to the pistons," Fox warns. "Brake selfadjusters block up. The remedy is to Copperslip them. The hack cylinder fins are prone to lock up with dust which prevents adequate cooling." On early models Fox's Maggies suffered from excessive brake wear of linings and drums, but a line-pressure mod solved the problem. Both F-registered models suffered chassis cracks.
"Our policy is to replace after four years but we still have some F-registered vehicles," says Fox. "The residuals are not as good as those for the Volvos, but because they are cheaper to start with there isn't a lot in it overall. We sell privately: it makes a difference of about £1,250 on each replacement deal."
With no air-cooled engined heir to the Maggie in the offing, Fox is planning to change the whole fleet. Ten will go in about a month's time and the rest about 12 months later. He is looking at Daf and Mercedes-Benz but has not made his final decision.
• DEALERS
Festival Trucks of Stoke-on-Trent probably buy and sell more used Iveco heavy trucks than any other dealer in the UK—Stewart and Guy Barker usually have up to 30 vehicles on site at any one time.
Guy Barker says: "Anything on a G-plate and later is difficult to get hold of at the moment and Ivecos are unbelievably scarce, due to the lack of new ones sold over the last couple of years. Operators are just not getting rid of them and those that do come in have big mileages The Maggie is not the lightest eightwheeler, but it is certainly very tough. People who operate them like them because they are so rugged and they have a good following even after 10 or 12 years. They are the only vehicle that will live alongside the Hino in the South of Ireland.
"Iveco has always been the poor relation on price but we have seen values coming more into line with other makes over the past year," he adds. "They still don't command the price that a Scania eight-wheeler would, but they are pretty popular at any age. When they were new they didn't fetch a lot by comparison and that will always be reflected in the secondhand price of a truck no matter who makes it.
"They are good value for money," he says. The driveline is excellent. The air-cooled veeeight engine is pretty well unburstable and a choice of nine-speed Fuller or 16-speed ZF transmission can't be faulted. The rear bogie comes as standard with inter-axle and crossaxle differentials. With correct maintenance you can expect very little trouble there and it's got a very strong chassis. Life-wise, the Maggie is so well built that it will run rings around the Scania.
"The engine is good for a million kilometers," he believes, "as are the gearboxes and differentials. The cabs get a bit of rust in them but if they are looked after they need not be too bad. For a nice tidy example of a 1989 300.34 on an F-plate you should expect to pay £20,000 and another £5,000 for a year later with about 300,000 miles on the clock."
Ray Miller, the used truck salesman for Quicks Trucks of Manchester, usually runs with 40 to 50 vehicles in stock, across the range. With the promise of an £180m development project at Wigan the area should become an even better area for eight-wheeler sales. Over the past year the company has been getting back into the heavy end of the market.
"We get hold of Maggies from time to time and last year I sold eight of them," says Miller, "It's always been a good tool. We know it's a bit heavy for aggregate work but it's a super muck shifter; you just can't break it. We have never really had any problems with the engines, gearbox or axles—they just seem to run for ever.
"From 1989 onwards the cabs are better protected against rust so they last better," he adds. "When it comes to parts it's as competitive as anything and they are always readily available. Right now Maggies are very difficult to get hold off because people are hanging on to them. I should say they hold their price well. For a F-registered 300.30 in good nick you would have to pay about £15,000.
"I think the confidence will follow out of the Maggie into the new model," he predicts. "I know it won't have the air-cooled engine any more, but what has?".
III SUMMARY
An air-cooled vee-eight engine is not everyone's choice and the chassis is heavier than many other makes.
But for muckaway work over the toughest conditions it has sufficient torque and ground clearance to make it the preferred tool for the job for operators who are looking for durability above all else.
Fuel consumption isn't brilliant and the springs need watching, but provided the brakes are serviced and the cooling fins are kept clean it seems that the Maggie is a nononsense truck which will run and run. Considering its residual value against other makes that is probably just as well.
0 by Bill Brock