ONE HEARS
24th February 1925
Page 3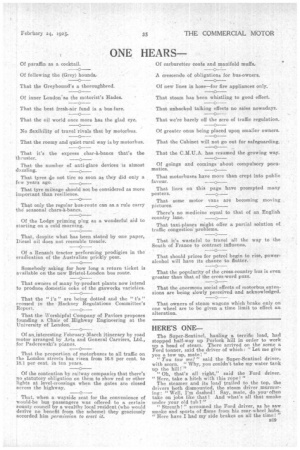 Page 3, 24th February 1925 —
ONE HEARS
Close
Of paraffin as a cocktail.
Of following the (Grey) hounds: That the Greyhound's a thoroughbred.
Of inner London'az the motorist's Hades.
That the best fresh-air fund is a bus-fare.
That the oil world once more has the glad eye.
No flexibility of travel rivals that by motorbus.
That the roomy and quiet rural way is by motorbus.
That it's the express char-k-bancs that's the thruster.
That the number of anti-glare devices is almost dazzling.
That tyres do not tire so soon az they did only a few years ago, That tyre mileage should not be considered as more important than resilience.
That only the regular bus-route can as.a rule carry thd seasonal chars-&-ba.ncs.
Of the Lodge priming plug as a wonderful aid to starting on a cold morning.
That, despite what has been stated by one paper, Diesel oil does not resemble treacle.
Of a Renault tractor performing prodigies in the eradication of the Australian prickly pear.
Somebody asking for how long a return ticket is available on the new Bristol-London bus route.
That owners of many by-product plants now intend to produce domestic coke of the gasworks varieLies.
That the "i's " are being dotted and the " t's " crossed in the Hackney Regulations Committee's Report.
That the Worshipful Company of Paviors proposes founding a Chair of Highway Engineering at the University of London: Of an, interesting February-March itinerary by road motor arranged by Arts and General Carriers, Ltd., for Paderewski's pianos.
That the proportion of motorbuses to all traffic on the London streets has risen from 16.8 per cent. to 18.1 per cent, in ten years.
Of the contention by railway companies that there's no statutory obligation on them to show red or other lights at level-crossings when the gates are closed across the highway.
—0 That, when a wayside Beat for the convenience of would-be bus passengers was offered to a certain county council by a wealthy local resident (who would derive no benefit from the scheme) they graciously accorded him permission to erect it. Of carburetter coats and manifold muffs: A crescendo of obligations for bus-owners.
Of new lines in hose—for fire appliances only.
That steam has been whistling to good effect.
That unba,cked talking effects no sales nowadays. That we're barely off the zero of traffic regulation.
Of greater onus being placed upon smaller owners.
That the Cabinet will not go out for safeguarding.
That the C..11/1.U.A. has resumed the growing way.
Of goings and comings about compulsory pneumatics.
That motorbuses have more than crept into public favour.
That lines on this page have prompted many posters.
That some motor vans are becoming moving pietures. 0 There's no medicine equal to that of an English country lane.
That taxi-planes might offer a partial solution of traffic congestion problems.
That it's wasteful to travel all the way to the South of France to contract influenza.
That should prices for petrol begin to rise, poweralcohol will have its chance to flutter.
That the popularity of the cross-country bus is even -greater than that of the cross-word puzz.
That the enormous social effects of motorbus extensions are being slowly perceived and acknowledged.
That owners of steam wagons which brake only on one wheel are to be given a time limit to effect an alteration.