ANOTHER SCHEME INTENDED TO TURN A FORD INTO A ONE-TONNER
24th February 1916
Page 2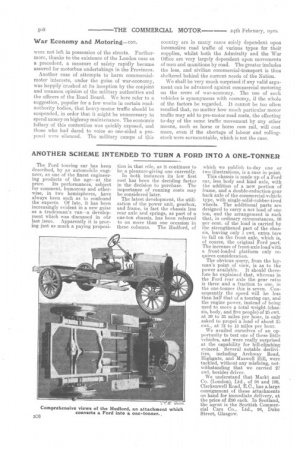 Page 2, 24th February 1916 —
ANOTHER SCHEME INTENDED TO TURN A FORD INTO A ONE-TONNER
Close
The Ford touring car has been described, by an automobile engineer, as one of the finest engineering products of the age—at the price. Its performances, subject for comment, humorous and otherwise, in two hemispheres, have always been such as to confound the experts. Of late, it has been increasingly evident in a new guise as a tradesman's van—a development which was discussed in °fir last issue. Apparently it is proving just as much a paying proposi tion in that role, as it continues to be a pleasure-giving one currently. In both instances its low first cost has been the deciding factor in the decision to purchase. The importance of running costs may be considered later.
The latest development, the utilization of the power unit, gearbox, and frame, in fact the chassis less rear axle and springs, as part of a one-ton chassis, has been referred to on more than one occasion in these columns. The Hudford, of which we publish to-day one or two illustrations, is a case in point. This chassis is made up of a Ford car, less body and hind axle, with the addition of a new portion of frame, and a double-reduction-gear back axle of the commercial-vehicle type, with single-solid-rubber-tired wheels. The additional parts are designed to carry a net load of one ton, and the arrangement is such that, in ordinary circumstances, 90 per cent, of the load is carried by the strengthened part of the chassis, leaving only 1 cwt. extra tare to fall on the front axle, which is, of course, the original Ford part. The increase of front-axle load with a front-loaded platform only requires consideration.
The obvious query, from the layman's point of view, is as to the power available. It should therefore be explained that, whereas in the Ford rear axle the gear ratio is three and a fraction to one, in the one-tonner this is seven. .Consequently the speed will be less than half that of a touring car, and the engine power, instead of being used to move a total weight (chassis, body, and five people) of 25 cwt. at 30 to 35 miles per hour, is only asked to propel a load of about 33 cwt., at 12 to 15 miles per hour.
We availed ourselves of an opportunity to test one of these little vehicles, and were really surprised at the capability for hill-climbing evinced. Several notable declivities, including Archway Road, Highgate, and Muswell Hill, were tackled, without any misfiring, not. withstanding that we carried 27 cwt. besides driver.
We understand that Markt and Co. (London), Ltd., of 98 and 100, Clerkenwell Road, E.C., has a large consignment of these attachments on hand for immediate delivery, at the price of £90 each. In Scotland, the agent is the Scottish Commercial Cars Co., Ltd., 98, Duke Street, Glasgow.